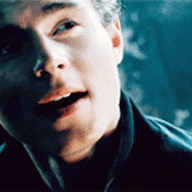 Auror in Training | Impulsive | Chaotic
Messages

1,256
OOC First Name

Daphne
Blood Status

Mixed Blood
Relationship Status

Seeing Somebody
Sexual Orientation

Straight (Nell)
Age

12/2035 (18)



Planning is not my friend. Impulse is.
​
THE BASICS:
NAME:
Jasper Pebble Night
NAME MEANING:
•
Jasper:
From Latin Gaspar, perhaps from the biblical Hebrew word גִּזְבָּר (gizbar) meaning "treasurer", derived from Persian ganzabara
•
Pebble:
A small stone made smooth and round by the action of water or sand.
His father chose this name to mock the Night family tradition of naming children after precious stones. Jasper is not a fan and never mentions his middle name.
•
Night:
The name Night is Anglo-Saxon in origin. It was a name given to a knight, who was usually a feudal tenant deriving its origin from the Old English word cniht, which means knight.
HOMETOWN:
tba
NICKNAME/ALIAS:
N/A
AGE:
16
BIRTHDAY:
December 2 2035
NATIONALITY:
Citizen of New Zealand
BLOOD STATUS:
Mixed Blood
SEXUALITY:
Unknown
RELATIONSHIP STATUS:
Single
ZODIAC SIGN:
Sagittarius.
Being a Sagittarius born on December 2nd, your straightforward and positive nature is paired nicely with a thirst for adventure. While others stick to things they know, you are most energized by what is new and yet to be experienced. You take any opportunity to find a new environment or people to interact with, which makes you exciting and appealing to others. Above all, your friends, family, peers and coworkers may appreciate your positive outlook, as they would be hard-pressed to recall a time where you didn't point out the bright side of things.
ELEMENT:
Fire
. Your sign's paired element is fire and as a Sagittarius, you are the only zodiac sign with a mutable relationship to the element. It is fire's influence that makes you an effective communicator and as adaptable as an open flame. It is also fire that links to the passion and enthusiasm that burns inside of you. When you find a goal worth pursuing, your flame burns with purpose as you display great fortitude in meeting your goals. Fire's positive qualities can become amongst your greatest strengths if you avoid the traps of impatience and impulsiveness that you are susceptible to.
PLANET:
Jupiter.
The ruling planet of the Sagittarius is Jupiter and as you were born in the first Decan, or part, of the sign, you actually receive a double helping of Jupiter's mystical influence. Being the planet of transformation, Jupiter's influence is linked to your pursuit of truth and adventure, as well as your optimistic outlook. Your planetary influences makes you far more driven towards exploration and higher learning than the other Sagittarius Decans. At times, your appreciation of truth may lead you to be too honest and direct in your dealings with others. Although your positive and outgoing personality will always make you popular and appealing, avoid hurting others with statements that can be interpreted as blunt. In love, try to find a partner that shares in your love for adventure, as this will bring your great satisfaction.
EDUCATION:
Hogwarts New Zealand
HOGWARTS HOUSE:
Slytherin
HOGWARTS YEAR:
Sixth
OCCUPATION:
Student
FAVORITE CLASS:
Flying, Potions
LEAST FAVORITE CLASS:
History of Magic, Charms
CLUBS AND ACTIVITIES:
Brotherhood of MAGIC
WAND

:
Coconut Wand 14 1/4" Essence of Star Dust:
•
Wood:
Coconut is a perfect wood for spells involving handy work and is brilliant for defensive magic
•
Core:
Star dust adds an effect of mystery, and a mystical power to make powerful spells, even stronger.

APPEARANCE:
PLAY BY:
Callan Mcauliffe
HAIR:
Blond and slightly curly when it gets long.
EYES:
Brown.
BUILD

:
Short for his age, a little scrawny.
STYLE:
Jasper's style is very casual and boyish. He barely cares about what he wears and at his current age mostly just wears whatever his dad buys him. He prefers bright colors, but doesn't tend to look too closely to make sure they all look good together.
OTHER DISTINGUISHING FEATURES:
Jasper often has a few bruises or scratches from getting into trouble.
A LITTLE DEEPER:
PERSONALITY:
Impulsive and chaotic are two words that describe Jasper perfectly. He's always been a very active child, often getting into things he wasn't supposed to. When he inevitably gets in trouble after doing something he didn't think through, Jasper always tries to figure out a way out. He's not above lying if he needs to, but often forgets to put a check on his imagination and make his stories realistic. Jasper isn't a very emphatic person, and often doesn't understand that other people might not like the things he likes. He unintentionally tormented his cousin Arkose at every family gathering by trying to get him to do things he didn't like to do. Jasper doesn't mind getting his hands dirty, and is often covered in mud and grass stains. He'll always be on the lookout for an adventure, and if it breaks the rules that's only more appealing to the boy. If he gets away with something, he can often be found bragging about it later (which has gotten him caught after the fact on more than one occasion).

ESFJ - "THE DEBATER"
The Debater personality type is the ultimate devil's advocate, thriving on the process of shredding arguments and beliefs and letting the ribbons drift in the wind for all to see. Debaters don't do this because they are trying to achieve some deeper purpose or strategic goal, but for the simple reason that it's fun. No one loves the process of mental sparring more than Debaters, as it gives them a chance to exercise their effortlessly quick wit, broad accumulated knowledge base, and capacity for connecting disparate ideas to prove their points.
ESFJ STRENGTHS:
Knowledgeable
•
Quick Thinkers
•
Original
•
Excellent Brainstormers
•
Charismatic
•
Energetic
ESFJ

WEAKNESSES:
Very Argumentative
•
Insensitive
•
Intolerant
•
Can Find It Difficult to Focus
•
Dislike Practical Matters

HISTORY:
While the Night family is fairly large and traditional, Jasper grew up mostly with just his dad in a pretty nontraditional household. He still saw the rest of his family often growing up, and really looks up to his older cousin Rory. But out of his family, Jasper is closest to his dad. His mother died when he was five, and ever since then he's been living with his dad in an apartment. Jasper's father is a lot like his son, and loves to have fun. The two of them often made blanket forts in the living room and made a sport out of sock sliding over the wooden floors of his grandfather's house whenever they got the chance. Because of this, Jasper feels very close to his dad and secretly fears losing him very much. Even though he knew he would have to be away from his father for school, he was very excited to get his Hogwarts letter. It felt to Jasper like Rory had been going for ages, and Sophia was now going as well. It wasn't fair that he hadn't been allowed to join the fun! He had looked forward to going at the same time as his cousin Arkose, and was a little disappointed to find out he would be going to a different school. But Jasper is determined to make the most of his time at Hogwarts.
LIKES:
Mud, bugs, being outdoors, running around, flying, prank items
DISLIKES:
Rules, reading, being inside, being treated unfairly
GOALS:
Jasper's goal is to be the best wizard ever, and also make the most friends at Hogwarts.
FEARS:
Jasper tries really hard not to think about this, but he fears losing his dad the way he lost his mother.
STRENGTHS:
Quick thinker, creative, social, funny
WEAKNESSES:
Impulsive, reckless, impractical
MIRROR OF ERISED

:
His family complete, with his mother standing behind him.
BOGGART:
His father dying.
PATRONUS:
A chipmunk
AMORTENTIA:
TBA
AESTHETIC:
FAMILY:
Name: Flint Night
Relation: Father
Age: 34 (2015)
Blood Status: Mixed Blood
Marital Status: Widower
Occupation: -
Name: Elissa Night - Adams
Relation: Mother
Age at death: 27
Passed away on: 2 March 2041
Cause of death: Accident
Blood Status: Muggleborn
Name: Aurora 'Rory' Night
Relation: Cousin
Age: 19
Blood Status: Mixed Blood
Marital Status: Single
Occupation: -
Former Hogwarts House:

Gryffindor

Name: Sophia Night
Relation: Cousin
Age: 16
Blood Status: Mixed Blood
Marital Status: Single
Occupation: HNZ Student
Hogwarts House:

Hufflepuff

Name: Shale Night
Relation: Second Cousin
Age: 13
Blood Status: Mixed Blood
Marital Status: Single
Occupation: HNZ Student
Hogwarts House:

Gryffindor

Name: Aegerine Night
Relation: Second Cousin
Age: 13
Blood Status: Mixed Blood
Marital Status: Single
Occupation: HNZ Student
Hogwarts House:

Ravenclaw


---


---

---


---


---

---


---


Last edited: