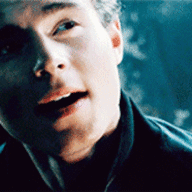 Class Clown | Oblivious | Impulsive | Chaotic
((Open after Jess))
Jasper was excited about today's trip to the forest. It wasn't his first trip, nor would it be his last. He really liked going into the forest on adventures, and especially enjoyed meeting a centaur last time. He had talked Lily into going with him this time, and he was excited to show her around and to show her how good he was at navigating the forest. He grinned proudly as he lead the way in. It was daytime, as a
nighttime
trip into the forest would probably be too much for the Hufflepuff, but the trees created a shadowy world on their own the moment they lost sight of the castle behind them. Jasper lit up his wand, then shone the light at Lily.
"See? It's not so bad here."
He told her.
"And if anything comes our way, I'll protect you, okay?"
He had no idea how he was going to do that, but he hoped it would reassure Lily a little. He wanted to have a fun adventure with her, and that wouldn't happen if she got scared enough that they had to turn around. He turned in a circle.
"I think the last time we met the centaur we went that way."
He said, pointing north.