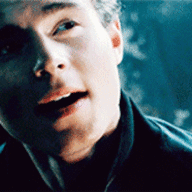 Class Clown | Oblivious | Impulsive | Chaotic
Jasper was giddy with excitement as he made his way along the corridor with Blake by his side. Tyler was somewhere behind them, and Jasper didn't really know why he came along. This plan was his and Blake's, and it was going to be exciting. Tyler seemed like the type of person who hated excitement. With the dung bomb safely in its package in his bag, Jasper exchanged a grin with Blake as they headed over to where the stairs to the entrance hall ended on the first floor.
"Their faces are going to be hilarious. I wish I had a camera."
He said, laughing at the mental image. He glanced around the corridor, which was thankfully mostly empty. Then he peered down to what he could see of the entrance hall.
"We should wait until people leave the great hall after lunch, that'll only be a few minutes and then its going to be super busy and we get as many people as possible."
Jasper said with a grin, though the temptation to simply chuck the thing down right now was almost too big to resist. Why did Blake only have to have one? He glanced at him.
"Next Brightstone weekend you should stock up on prank supplies, we could go together!"
He said, grinning. He had forgotten about Tyler completely.
Out of Character:

We asked a professor to intervene already
Last edited: