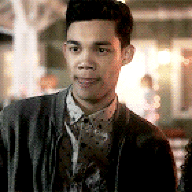 'Sully' | Life of the Party | Gambol's Assistant
This thread is open for any third, fourth, or fifth year students only.
Sully had been thinking on things a lot lately. He was nearly 15 and somehow he'd never managed a real date or even a kiss yet. His older sister had given him plenty of grief about it over the holidays and Sully had returned to school a new man. This plan might not 100% guarantee him a date, but at least he'd finally get rid of the whole 'never been kissed' status looming over his head. Hoping he'd managed to spread the word well enough, Sully had procured an appropriately funky looking empty potion bottle to use and had cleared a space in the center of the abandoned classroom so they could get a proper game of spin the bottle going. Now he just needed to wait for people to show up and try to keep prefects (and maybe Eric) out of here. He'd learnt his lesson well enough after last year.
Out of Character:

Here we go folks! Want to leave a day or so for folks to post their character arriving before we start the actual game. If you missed arrivals, please still feel free to jump in the thread whenever.

Some ground rules:


Please only students aged 13-15 to avoid any awkward age differences.
Please only join if you're sure you can stay active in the thread. I'd like to keep things OSW style to keep things moving and fun for everyone.
I'll be using RNG to determine who the bottle lands on for my posts, but feel free to pick your target however you'd like. Just make sure you make it clear who your char is interacting with, even if IC they do not know their name. I recommend @-ing them to make sure they see it!
To avoid accidental godmodding, please either leave room for other people's character's to back out of a kiss or discuss the outcome with the RPer OOC if possible. A kiss on the cheek is fine as well.
For extra fun or just to get an idea of the flow, check out the game Daph ran previously as well!