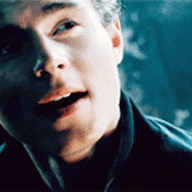 Class Clown | Oblivious | Impulsive | Chaotic
Messages

1,251
OOC First Name

Daphne
Blood Status

Mixed Blood
Relationship Status

Seeing Somebody
Sexual Orientation

Straight (Nell)
Age

12/2035 (18)
Set right after the Quidditch Game (this is a bit late sh)
Jasper was absolutely exhausted and he was in pain, the two bludger hits feeling a lot worse now that he was on the ground and no longer focusing all his attention on the snitch. The snitch he was now holding in his hand as he stumbled his way over to the Hospital Wing. He
had
to show Blake, had to tell him they had won. While he was there, he might as well get himself checked out a bit too. He had told the remaining teammates to meet him in the Hospital Wing as well. With most of their members already in there, it seemed like convenient place for a victory party of sorts. Even if most of the team probably wasn't in the partying mood. Still, Jasper threw open the doors with a bit of drama, holding the snitch high in the air.
"Bow before me, I saved our honor!"
He called, grinning at Indi, Daintree, Ruben and finally at Blake
. "Actually, don't bother getting up. You all look like crap."
Jasper said, heading over to Blake with a slight limp himself before putting the snitch in his hand.
"Here you go."
He said with a smile at his friend.
"Surely that earns me a honorary captain title, at least."
He added jokingly, trying to hide the wince as he shifted his weight.
"I told the rest of the team to come here, I hope the nurses don't mind. To be fair, most of us are already here."
He said, shrugging a bit.