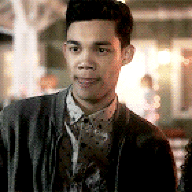 'Sully' | Life of the Party | Gambol's Assistant
Solomon 'Sully' Tofilau
Birthdate : Dec 18th, 2036
Hometown : Rotorua, NZ
Blood-status : Muggleborn

House : Gryffindor


Wand :

Dogwood Wand 13" Meteorite Dust Core:

Dogwood wands are mischievous, and like the same in those who wield them. They refuse to perform non-verbal magic (and are often quite loud), and look for fun and excitement. However, in the right hands a wand with this wood should not be underestimated. This wand core works well for people who adapt easily to their surroundings while still maintaining their own personalities. Meteorite dust seems to produce wands that are useful in Divination work. ____

APPEARANCE


Play by

: Roshon Fegan

Hair

: Dark brown, kept short

Eyes

: Brown

Height/Build

: Average, athletic

Style

: Trendy and comfortable, with an emphasis on work-out or sportswear. Cares a lot about shoes. Sully rarely wears his uniform properly

Distinguishing Features

: Sully has a wide smile with dimples.


____
PERSONALITY
Bold

|

Easy-going

|

Athletic

|

Stubborn

|

Childish
Lively and sociable, Sully loves to stand out and be liked. Easy to get along with, Sully excels at casual conversation and making others feel at home but can be prone to poor decisions in an attempt to be noticed or because he thinks others will find it funny, a holdover from a bigger family where you have to go big or be ignored. A fan of instant gratification, Sully rarely has patience to wait for the big payoff, enjoying having his rewards here and now and lacking the ability to really plan ahead.
Sully is also quite stubborn, but lacks conviction if his stance is questioned as he's so concerned about others opinions about him. However, he still doesn't like admitting that he's wrong or unable to do something, clinging to decisions he's made to avoid the possibility that he's in the wrong.
Usually lucky enough to be naturally talented a lot of pursuits, Sully enjoys being good at things, but shies away from responsibility or serious efforts, dropping or disparaging things he's not immediately successful in. Better to half-ass something than try and still not succeed.
Strengths
: Confident, Outgoing, Determined
Weaknesses
: Impulsive, Unreliable, Concerned with others' opinions
Likes
: Sports, Shoes, Video games, swimming, remixing music
Dislikes
: Cats, Vegetables, Being ignored



____
FAMILY + HISTORY
Sully grew up in a larger muggle family, close to his aunts, uncles, and cousins. His grandparents are originally from Samoa, and he has further extended family still living there. Sully spent an interesting Christmas after his 11th birthday when he received his letter for HNZ. Though there are no other witches or wizards in his immediate family, Sully's previous magical outbursts were all chalked up to either usual childhood mischief, or in the case of the truly unexplainable, simply dismissed or attributed to an old great-grandmother's strange blood. Sully had never met his great-grandmother, but once he was made aware of the wizarding world, he can't help but wonder if she might have also been a witch.​
JOSEPH TOFILAU

Father

| Muggle |​

DAWN TOFILAU

Mother

| Muggle |​

SIA TOFILAU

Sister

| Muggle University Student |​

RENE TOFILAU

Brother

| Muggle Primary School Student |​

____​
Last edited: