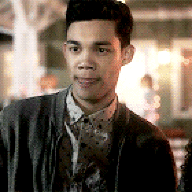 'Sully' | Life of the Party | Gambol's Assistant
Messages

996
OOC First Name

Kris
Blood Status

Muggleborn
Relationship Status

Seeing Somebody
Sexual Orientation

Bi (Chloë)
Age

12/2036 (17)
Open after Marijke posts with Chloë
As often as Sully could get bored so easily, he'd come to enjoy the easy familiarity that came with going to dances with his girlfriend. He never had to ask Chloë if she wanted to go, or worry about what to wear if he wanted to impress her. Though that still didn't mean Sully was completely content with them being some boring, perfect couple.
He'd towed Chloë out to the dance floor pretty early after arriving, eager for a chance to show off. "
You know what this needs? A little style
," he said with a grin, motioning to the decorations around them before drawing his wand. "
Avis!
" He said, ducking when he forgot about the loud sound the spell produced before looking up proudly to see the birds he'd conjured. He'd been practicing really hard on summoning pink birds, just for the occasion, though Sully frowned when he didn't immediately see the flock fluttering around their heads like he'd intended. "
Oh. Oops
," he said, glancing at Chloë when he spotted the small flock of flamingos now milling about them. "
Well, at least they're pink.
"