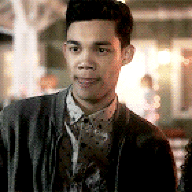 'Sully' | Life of the Party | Gambol's Assistant
The Halloween feast had been pretty mean, but Sully had had his own plan stewing for a good time tonight. Eager to slip away, Sully was practically bouncing on his feet as other students who'd gotten the word about his challenge had started to arrive. "
Okay, cool
," Sully said, looking at the other students who'd gathered there. "
Rules are pretty simple, aye. You just gotta make it down the end of the corridor and touch the creepy looking, old lady statue. If you do that, you pass, if you wimp out, you're a chicken
," Sully said with an easy shrug, grinning at his audience. "
If any professors come, just say we got lost coming back from the feast or whatever. If they don't buy it, just run. They can't catch us all,"
Sully said with a grin.
"I'll go first, show you how it's done. You can go in pairs and stuff too if you really want to
,
" He threw over his shoulder before puffing his chest out and making his way down the darkened passage.
The dungeons had been pretty eerie during the day when Daintree had been show him around, but tonight that was dialed up to 11. Sounds from the Halloween feast upstairs filtered down, muffled by the old cobblestones, what sparse torchlight there was flickered oddly in the corners. Rounding the corner, Sully lost track of the rest of the group waiting, faced only with the dark passage and the statue he knew was at the end. The old lady statue had been down right unnerving when they'd found it earlier, and tonight Sully almost regretted making her the target. His steps faltered a little, unnerved by the echo in the dim silence around him and Sully flinched when the statue suddenly loomed out of the darkness. Catching his breath, Sully laughed at himself for being spooked, patting the statue quickly on her gnarled hand before hopping back down the hallway and back into the light.
"
See, easy
," He said, coming to a halt in front of the other students with a flourish. "
Alright, who's next!
"
Out of Character:


Happy Halloween! It's Fear Challenge time. This thread is set Halloween night, during the feast, but with enough time I figure characters can manage to attend both if they wish.
The way I see this going is you can post your character making their way down the corridor to touch the statue at the end. It's totally up to you how well your character does. Pairs or small groups are fine as well, just try not to hold up the thread if possible. If you would like to scare other students, or be scared yourself, I would suggest leaving your post open ended or with an OOC note letting other rpers know what level of godmodding is okay. Please follow board rules, especially regarding any godmodding and have fun!