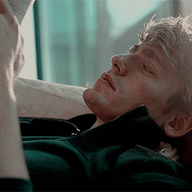 Oldest 💥 Better Than You 💥 Brotherhood Co-Pres
Messages

366
OOC First Name

Kadi
Blood Status

Mixed Blood
Relationship Status

Single
Sexual Orientation

Bisexual
Wand

Straight 14 1/2 Inch Rigid Silver Lime Wand with Veela Hair Core
Age

11/2036 (18)
Simon had spent a lot of his time recently pulling everything together for tonight which meant he didn't have to stress about his impending graduation. Tonight he had enough to worry about, with so many kids around fire he knew he had to be vigilant. Thankfully the weather had cooperated with him and there was a slight chill now that winter was right around the corner that made the heat coming from the fire pleasant and comforting. There were a few games and activities and of course plenty of snacks, with marshmallows and chocolate to make s'mores. He just hoped it would be enough to satisfy both the boys and the girls from Heta Omega. It was all of the leader's last event to host at Hogwarts and there was a lot of pressure to make it count.
He waved over to Samantha and Noel as both clubs started to arrive, and he cleared his throat before addressing them.
"Good evening everyone!"
he shouted.
"I'll keep this brief so we can get right down to the festivities. But first I would like welcome not only all the boys from Brotherhood of Magic but the girls from Heta Omega as well."
he said with a warm smile and tried to see if he could find Lila in the dark crowd.
"Since this is our last event before we graduate in a few short weeks I would like to say it has been a pleasure to serve as your Co-president for the last two years. But before I let you all loose to cozy up by the fire and eat all the snacks, a few quick words from our other leaders."
he finished with a slight bow and gestured towards Noel and Samantha for them to say something if they wanted.
Out of Character:

Please wait to post until Maria has posted with Samantha Jacobs and Jamie has posted with Noel Waldgrave! Thanks!