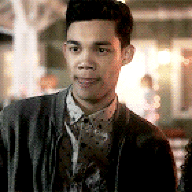 'Sully' | Life of the Party | Gambol's Assistant
Open after Daphne and Kaitlyn
Sully hadn't forgotten Aisa's dare from last year, he'd just been waiting for the perfect opportunity. They didn't have Defense this semester, but they hadn't had it at the end of last year either, so Sully felt like he'd already used that excuse. Besides, Professor Styx really wasn't that scary, it would be nothing to just catch him in the hallway and show Aisa he wasn't scared.
He was determined that today would be the day, and had made a point to steer both himself and Aisa past the DADA classroom between classes, hoping to catch Professor Styx towering over everyone between class. Spotting the teacher's grim face in the hallway, Sully nudged Aisa quickly with his elbow, giving her a confident grin. "
Watch this
," He said, making his way past a few loitering Slytherins and up to Professor Styx.
"
Hey, professor!
" He said brightly. "
Just wanted to say everyone seems to think you're a scary bastard, but I don't think you're that bad at all
." Sully gave Styx a companionable pat on the arm before immediately spinning around to make it back to Aisa. Everyone said Professor Styx seemed to be in a better mood this year, but Sully still figured a quick exit before he could react would be best.