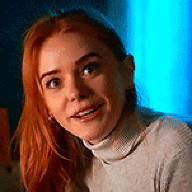 ☆ ½ French ☆ Astrophile ☆ Chaser ☆ Bubbly
Messages

986
OOC First Name

Marijke
Blood Status

Mixed Blood
Wand

Curly 14 1/2 Inch Flexible Larch Wand with Hippogriff Feather Core
Age

04/2038 (14)
CHLOË
CÉLESTINE
THOMPSON
​
FULL NAME
Chloë Célestine Thompson.
​
PRONOUNCIATION
Chloe in English is pronounced as KLOH-ee, however her name is of French origin and in French it is pronounced [klo.e]. Célestine, which is once again French, is pronounced as SEH-LEHS-TEEN.
​
MEANING
Chloë meaning "green shoot" in Greek, referring to new plant growth in the spring. ​
Célestine being derived from the Latin caelestis meaning heavenly. ​
WHY
Chloë's parents had heard the name somewhere during her mother's pregnancy and at that moment had shared an all-knowing look with each other. For some reason they had both felt that this was the name they were to give their little girl. Her second name, Célestine, was chosen in honour of her mother's sister, who had died at a young age and had meant everything to her mother.
​
NICKNAMES
Since her name is short of itself, she doesn't have many nicknames. Through her life she has had both positive and negative nicknames. Her father often calls her princess, whilst her mother often calls her ma petite fleur, which means my little flower. When she was younger, the girls at her ballet lessons would call her perfect, but not to be nice. This is something that has stayed with her ever since, and she is not happy when people call her that, even if they have good intentions. Her brother calls her 'shorty' to tease her. ​
BLOOD STATUS
Mixed Blood. Her mother comes from a Pure Blood family, but her father is a Half Blood wizard.
​
THOUGHTS
Chloë's mother comes from a wealthy, French, Pure Blood family. Her grandparents did not agree with her mother marrying her father and told her that if she did, they would disown her. They kept their word. This is just one of the reasons why Chloë couldn't care less about her own, or anyone else's bloods status. She believes that people are their own person and blood status should never be used to define who you are or what you should be.
​
ROOTS
As mentioned, her mother comes from a long line of wealthy, Pure Bloods. Her family finds their roots in Marseille. Her father is from New Zealand, although he is also partly American, as his great-grandmother came to New Zealand from America.
​
NATIONALITY
After her family moved to New Zealand Chloë officially became a New Zealand resident. Her brother has a dual nationality since he officially lives in New Zealand but goes to school in France and she has always been ever so slightly jealous of it.
​
HOMETOWN
Chloë lived in Marseille, France for the first six years of her life.
​
CURRENT RESIDENCE
The Thompson's currently reside in a cosy family home in Dunedin, New Zealand.
​
WAND
​

Curly 14 1/2 Inch Flexible Larch Wand with Hippogriff Feather Core
​
Length:
A little on the longer side of things, wands of this length are slightly more uncommon and not easily forgotten by others.
Style:
Great care was taken in crafting this wand's wood to spiral to its point, giving it a beautiful aesthetic quality.
Wood:
Larch is a durable wand wood that helps realize new talents and always seems to have some unexpected qualities influenced by its owner.
Core:
Just like the animal from which it comes, hippogriff feathers being used as a wand core produce wands that are stable and versatile; however, they must be respected by the wand caster or risk having this wand turn against them.
Flexible:
Not easily broken, this wand performs under strenuous circumstances with little effort - though how well it performs is ultimately up to its weilder.
​
​
DATE OF BIRTH
Chloë was born on the 10th of April, 2038.
​
PLACE OF BIRTH
Chloë was born in the wizarding hospital in Marseille, France.
​
BIRTH STORY
Her parents have always told her that her birth was over before they had even fully realized it. Chloë was born two weeks early and had come rather unexpected, causing her parents to have to hurry over to the hospital. There had been some complications with the birth of her brother so her mother absolutely wanted to be in the hospital in case anything went wrong. In comparison to her brother's birth, however, Chloë's birth went smoothly which was a great relief to her parents.
​
ZODIAC
Aries. Aries people have a great instinct for what needs to be done, and once you decide what it is, then it is full steam ahead. Aries want to change the world with no half-measures in sight. This can come across as arrogant, but it is only because they have incredible confidence in their ability to get things done. Aries have a certain fearlessness and aren't afraid to explore the unknown in life. People admire an Aries's indepence and freedom of expression in what they do. Achieving their goals is important for an Aries. People who fall under the Aries do not procrastinate and dislike laziness.
​
HOUSE ASTROLOGY
Gryffindor Aries.
The Gryffindor Aries is extremely idealistic, and has a tendency to fight hard for many causes - the more lost, the better. Gryffindors born under this sign will also have very short fuses, and can be expected to fight regularly with other students, over ethical questions or over anything else that makes a good excuse. Since Mars is a planet that encourages war games and competition and bursts of hard physical activity, there may be many Quidditch players born under these aspects. A Gryffindor Aries is an open book; a truth potion would never be needed on one, because they are hopelessly honest and open. These wizards will display uncanny charisma and leadership ability, and will be among the most popular within their class.
​
ELEMENT
Fire. Those graced by fire are fiery. They are enthusiastic and sometimes larger than life. Just like a fire that is left unattendes, however, fire signs can burn out of control, so it's best to tend those embers. A fire sign is also an indicator of creativity. This element manifests itself in creative and unique ways, and those in its glow are courageous and lively spirits. Those influenced by a fire sign are self-sufficient, spontaneous and possess a tremendous zest for life. Aries under the fire sign are not known for their patience. They prefer cutting to the chase over any tactic. They are brave, impetuous and direct.
​
PLANET
♂ Mars. Mars has the symbolic colour red -- the colour of blood, fire, action and passion. Mars is notably passionate and impulsive. Mars is able to ignite our passions and proper us forcefully towards our goal, making its influence particularly important as it is able to determine the way we pursue and achieve our goals in life. Mars in Aries is in its element and gives the native the whole of its energy, will-power and courage. An Aries under Mars often finds that veni, vidi, vici comes true for them. ​
​
PLAYBY
BLOOD TYPE
Chloë's blood type is O-, which means she is a universal donor.
​
HAIR
Chloë has long, natural red/ginger hair. Her hair reaches far past her shoulders and finds its end somewhere near the bottom of her ribs. Chloë's hair is naturally wavy, but she likes to wear it straight as well. She loves to wear her hair loose, but also enjoys trying out different hairstyles. If she's tired or her hair won't work with her, she'll just quickly put it in a braid and just let it be for the rest of the day. She has learned never to fight with it, because that will only makes things worse.
​
EYES
Her eyes are of a blue/grey-ish colour. It has always been noted she has her fathers eyes and she is proud to share the resemblance with him.
​
HEIGHT
She has always been a little below average. Chloë isn't extremely short, but she's on the shorter side and will always be. It doesn't bother her but has proven to be an easy thing for people to tease her with. She loves to joke around though, so she'll likely laugh about it.
​
BODY
Chloë is a bit on the shorter side of things, but she has never really had a problem with it. She knows it's an easy thing for people to use if they want to tease her and will easily go along with it, not unlikely to make jokes about her height herself. Due to her growing up with ballet lessons she is very agile and usually has good control over her balance.
​
DISTINGUISHING FEATURES
Asides from her hair, Chloë's most distinguishing features are probably her freckles and her smile. She loves her freckles and even though they will completely cover her face in summer they never fully disappear in the winter. She'll always have a couple visible. Chloë's smile is one to be reckoned with and you'll often see her smiling. She's generally a happy kid and smiling just comes super easy to her.
​
PIERCINGS
Chloë has had both of her ears pierced when she was six years old.
​
HEALTH
Chloë is in good health. She has no known illnesses or allergies and does not need to take any medicine.
​
DOMINANT HAND
Her dominant hand is her right hand.
​
LANGUAGES
Chloë is fluent in both English and French, the latter being her official mother tongue. She was raised bilingually from a young age. She also knows some New Zealand Sign Language thanks to some classes hosted by other students at school.
​
STYLE
Chloë will wear whatever she wants and feels good in. She does love simple clothes that are somewhat sophisticated. She'll wear clothes that aren't too busy, sticking with modest patterns and colours. Being comfortable comes above all though. She also loves to accessorize with rings and necklaces. Her style will grow with her as she does and evolve as it does.
​
​
FIVE WORDS
Ambitious. Having a strong desire and determination to succeed. ​
Astrophile. A person with a deep love for stars; astronomy.​
Bubbly. A person who is very lively and cheerful, often talks a lot.​
Confident. Feeling or showing confidence in oneself or one's abilities or qualities.​
Daring. (Of a person or action) adventurous or audaciously bold.​
FIVE WORDS EXPLAINED
Ambitious. Chloë has had one main goal in her life for a while now: to become an auror when she grows up. She feels like to do so she needs to excel in her classes and is determined to do good. ​
Astrophile. Ever since she was younger Chloë has had a great fascination with the sky and everything it consists of. She loves looking at the sky at night and trying to determine which little dot is what star, planet or constellation. She loves learning about it, enjoying the feeling of looking up and actually knowing what she is looking at.​
Bubbly. Anyone who has met Chloë will notice this about her. She is very outgoing and walks around a happy person most of the time. She loves to chat with anyone and everyone, always happy to speak to new people and possibly make new friends.​
Confident. Chloë is confident in herself and what she can do. She knows she's smart and should be able to fulfill her goal of doing well in school so she can get the carreer she wants when she grows up. She is also rather confident in how she looks.​
Daring. Chloë won't run away on an adventure every chance she gets but she definitely appreciates one every now and then. She is bold and is not easily scared on intimidated. ​
OVERAL PERSONALITY
Chloë is a confident girl. She is outgoing and doesn't shy away from a little prank at times. She's probably more of an extrovert than an introvert. She enjoys hanging with others and wil most likely befriend anyone and everyone she thinks is nice. Chloë is intelligent and knows exactly what she wants to be when she grows up and what she has to do in order to get there. She likes to get her work done right away so she can't forget it and has plenty of time left to do fun things. Small as she is, she won't stand for people she cares getting hurt and will not back down from a confrontation. This might have to do with her being a very compassionate person. She instinctly wants to watch out and care for others and will definitely be protective when necessary. Chloë is a person who loves to have fun and be surrounded by her friends. She loves to have people she can joke around with and won't shy away from a little sarcasm every now and then. She's generally a happy person and will often be found smiling. Other than that she is also extremely curious and will have no trouble asking questions if she is, no matter whether she knows the person she's curious about or not.
​
MBTI PERSONALITY TYPE
ESFJ-A. The Assertive Consul.
​
PERSONALITY TYPE EXPLAINED
People of the Consul personality type are 'popular', which makes sense given that is a common personality type. At their heart, Consul personalities are social creatures and thrive on staying up to date with what their friends are doing. Consuls take their responsibility to help and do the right thing seriously. They are supportive and outgoing: at a party you'll find them to be the ones trying to find time to chat and laugh with everyone. Consuls enjoy supporting their friends and those they care about, being genuinly interested in their lives, wanting to organize social gatherings and trying their best to make sure everyone is happy. Assertive Consuls often have an optimistic outlook and will try to let go of regret more quickly than others. They would describe their approach to life with a sort of energetic ease that taps into their confident focus. They are likely to be bold in their belief that they can deal with anything that life throws their way.
​
OPTIMIST OR PESSIMIST
Chloë is definitely an optimist. She will try to see the good in things and likes to look at the bright side, to try and keep things positive even is she might feel a bit glum herself.
​
TEMPERAMENT
TEMPERAMENT EXPLAINED
People with the Sanguine temperament/personality type tend to be lively, optimistic and carefree. They are bad at dealing with boredom and will seek entertainment instead.
​
GOOD HABITS/STRENGTHS
Chloë is highly social and has no issues making friends or chatting with complete strangers. She's intelligent and will easily do well in school. More to be added as she grows up and discovers them.
​
BAD HABITS/FLAWS
Chloë can be a bit of a perfectionist when it comes to her schoolwork. She has also found out that she has difficulty coping with people leaving. More to be added as she grows up and discovers them.
​
LIKES
Dancing, hanging out with friends, the colour red, Gryffindor, people who make her laugh, animals, quidditch, everything to do with the sky.
​
DISLIKES
Rude people, long lectures, being left behind, smoking and bludger hits because they are the worst.
​
AMORTENTIA
She would smell her mother's favourite perfume, coffee and freshly baked waffles. These are all smells that have been with her throughout her life and mean a lot to her.
​
MIRROR OF ERISED
Chloë would see herself as an Auror in the mirror. She has wanted to become one for as long as she can remember and it is her one dream in life.
​
PATRONUS
Basset Hound. Chloë's Patronus will turn out to be a Basset Hound. Basset Hounds hail from France. Their name literally means "low-set." These short-legged companions are loyal and affectionate. They are pack animals that crave companionship but often do things in their own way and in their own time. Basset Hounds have a sense of humor and a playful demeanor. ​
BOGGART
HOBBIES
Chloë's favourite thing to do is dance. She can absolutely loose herself in it and has been dancing ever since she was a little girl. She started out with classical ballet, but along the way also picked up on modern dancing. She has grown to become quite good at both and loves just finding an open space and figuring out a dance as she goes.
However, she hasn't done much dancing since she arrived at Hogwarts and has decided to spend more time on something else she loved: quidditch. She'd often watch quidditch with her dad and brother and enjoys the sport greatly (even more now that she made the team).
​
HANDWRITING & SIGNATURE

​
​
SEXUAL ORIENTATION
Chloë is young, but she has a growing interest in boys.
​
CURRENT RELATIONSHIP
PREVIOUS RELATIONSHIPS
FIRST CRUSH
FIRST KISS
Chloë had her first kiss with Nicole Fisk during a game of spin the bottle in her third year.
​
OTHERS KISSED
Chloë has kissed Nicole Fisk and Simon Thorne during a game of spin the bottle in her third year.
​
​

​
CATS OR FERRETS?
Ferrets. Although Chloë absolutely loves her family cat Lotus, she loves her ferret even more.
​
PANCAKES OR WAFFLES?
Waffles. She could eat waffles all day and all night. But they have to be warm and freshly baked.
​
HOT CHOCOLATE OR COFFEE?
Hot chocolate, but ask her again when she's a few years older because who knows what'll happen.
​
DAY OR NIGHT?
Night. Don't get her wrong, she loves her sleep, but Chloë thinks the night has so much more to offer than we know of. She is especially intrigued by the night sky as she loves astronomy.
​
SUMMER OR WINTER?
Summer, because that's when her freckles take over her entire face and she loves that! Although winter is also great because then she gets to wear warm, cosy clothes all of the time.
​
FRENCH OR ENGLISH?
French. It's her mother tongue and a beautiful language and she tries to keep up with it as well as she can now that she's at Hogwarts.
​
MOUNTAINS OR OCEANS?
Mountains. They create such wonderfull landscapes.
​
NEW ZEALAND OR FRANCE?
New Zealand. She loves France with her entire heart, but she does feel at home in New Zealand.
​
SUN OR MOON?
Moon. Chloë adores the night sky. It holds so many wonders.
​
BROTHER OR SISTER?
Brother. Sometimes Archer gets on her nerves, but at the end of the day she still loves him and he is a great older brother. Although she would also love to know what it would be like to have a sister, which is why she joined Heta Omega.
​
GOLD OR SILVER?
Gold. She thinks it suits her better.
​
WITCHES OR WIZARDS?
Witches, ofcourse! Girl power all the way.
​
STRAIGHT OR CURLY HAIR?
She couldn't choose even if she wanted to and also doesn't always have a say in it.
​
ROSES OR DAISIES?
Daisies, they look so innocent and cute.
​
HOGWARTS OR BEAUXBATONS?
Hogwarts. Her brother tells her great stories about Beauxbatons, but since she feels so at home in New Zealand she decided to attend Hogwarts. So far, she hasn't regretted this decision for even a second.
​
OUTSIDE OR INSIDE?
Outside. Whether it be day- or night time, outside is wonderful.
​
MODERN DANCE OR CLASSICAL BALLET?
Classical ballet. She loves both styles, but she has grown up with ballet and is better at that too.
​
DANCE OR QUIDDITCH?
Quidditch. Chloë grew up dancing and has always adored it but it was hard to keep up at school. She enjoys watching quidditch with her family and has developed a great love for the sport since she attended Hogwarts, which developed even further when she became part of her house team.
​
​
EDUCATION
Chloë was homeschooled together with her brother and some other magical kids when she was younger and living in Marseille. She continued to be homeschooled for a couple of years after her family moved to New Zealand. Here she was homeschooled by one of her uncles, together with some of her cousins and a couple of other kids. When she turned eleven Chloë started to attend Hogwarts New Zealand.
​
TIMELINE
Homeschooled in Marseille, France // 2042-2043.
​
Homeschooled in Dunedin, New Zealand // 2043-2048.
​
Attended Hogwarts New Zealand // 2048 - ongoing.
​
HOGWARTS HOUSE
She was sorted into Gryffindor.
​
THOUGHTS
Chloë was excited to be sorted into Gryffindor. Her dad had been in the same house and it immediately made her proud to share this with him. She doesn't have any complaints about being in Gryffindor and is having a great time. She will definitely defend her house if anyone wants to claim their house is better than hers.
​
FAVOURITE CLASS
Her favourite class is Astronomy, but she also likes Charms a lot.
​
LEAST FAVOURITE CLASS
Chloë's least favourite class at the moment is Potions. She isn't a fan of it but does think it is a useful class to have.
​
CLUBS & EXTRA CURRICULARS
Heta Omega member (started Y35).
​
Gryffindor Quidditch team - Chaser (started Y36).
​
GRADUATION
She is set to graduate in 2055 (Y40).
​
OCCUPATION
Chloë is currently a student at Hogwarts New Zealand.
​
WORK ETHIC
Chloë is a hard worker. She has certain goals she has set for herself and wishes to achieve and she will try her best to do so. At school, she works hard and prefers to get things done right away rather than procrastinating, because this way she can use the time she has left for other, more fun activities.
​
FAMILY
​
FATHER
Isaac James Thompson
D.O.B.
21st of May, 2008
BLOOD STATUS
Half-Blood
RELATIONSHIP STATUS
Happily married
EDUCATION
Hogwarts New Zealand alumnus
HOUSE
Gryffindor
OCCUPATION
Obliviator

MOTHER
Elodié Fleur Thompson (née Laurent)
D.O.B.
4th of April, 2010
BLOOD STATUS
Pure Blood
RELATIONSHIP STATUS
Happily married
EDUCATION
Beauxbatons alumnus
HOUSE
Not applicable.
OCCUPATION
Healer

BROTHER


Archer Noah Thompson
D.O.B.
15th of November, 2033
BLOOD STATUS
Mixed Blood
RELATIONSHIP STATUS
Single
EDUCATION
Beauxbatons
HOUSE
Not applicable.
OCCUPATION
Student
RELATIONSHIP WITH PARENTS
Chloë has a great relationship with both of her parents. She finds both of their jobs highly interesting and loves to listen to anything they can tell her about them. They are very loving parents and have always supported her to the fullest. She cares greatly for her parents and wouldn't know what to do without them. The main difference between her relationships with her parents is that her father is a bit more easy going than her mother is. He will often allow things her mother would say she needs to think about or possibly won't allow.
​
RELATIONSHIP WITH BROTHER
Even though Archer is four years older than Chloë is, they have a good relationship. Ofcourse they have their fights as all siblings do, but they are never too bad. Chloë and Archer don't really apologize to each other, rather waiting for a little while after a fight before casually walking in to the other's room to hang out again and everything will be good. Archer is protective of his sister and although she doesn't always like that, Chloë appreciates him wanting to look out for her. She sees Archer as one of her best friends and is grateful to have him as her brother.
​
PETS
Chloë has two pets. One of them is a black, family cat called Lotus. They have had her for a long time and she has been around for most of Chloë's life. She adores the cat and likes it when she's just hanging out on her bed or the couch and Lotus joins her. Chloë also has a ferret called Fergus. Fergus is her absolute best friend and she can't imagine not having him around. He likes to snuggle up to her on her shoulder. Chloë has had Fergus for a couple of years now and hopes she will get to spend a lot more years with him by her side.
​
​
​



EXTENDED FAMILY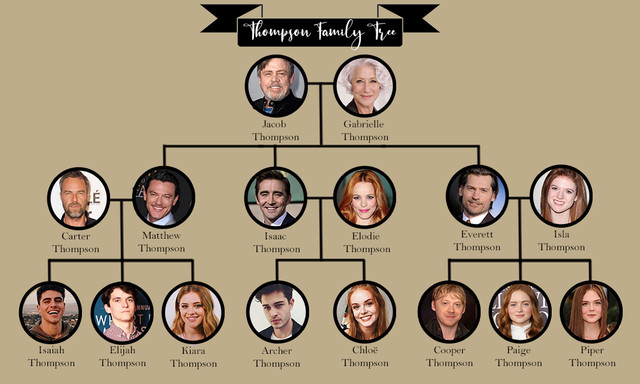 ​
EARLY YEARS (2038-2049).
Chloë was born on the 10th of April 2038, in her family home in Marseilles, France. She was Isaac and Elodié's second child and is a couple years younger than her older brother, Archer. From a young age, Chloë showed signs of magical abilities, which was of no surprise to her family as they are all witches and wizards. Chloë spend the first six years of her life in Marseille, where she was homeschooled together with her brother and some other magical kids. Although most of her mother's family lived in Marseille as well, Chloë almost never got to see them. They had not agreed with her mother's marriage to her father and therefore had disowned her. Even though Chloë's mother loved Marseille and would have rather stayed there, the prying questions her young children asked about seeing their family eventually got the better of her. So, after a long time of debating, Chloë's parents decided to move to her father's home town of Dunedin, in New Zealand. At the time they moved Chloë was six years old. In New Zealand, she finally learned what it was like to have a family that is bigger than just her mom, dad and her brother. She suddenly had grandparents, uncles, one aunt and a couple of cousins. Every sunday afternoon they would all go their grandparents house and Chloë always loved those times of hanging out with her family. Both Chloë and her brother had been raised bilingual, learning to speak French and English from a young age. Her parents had always wanted to let their children make their own choice when it came to schools: Hogwarts or Beauxbatons. Archer was close to turning eleven when they left France and therefore the decision had already been made for him to attend Beauxbatons. He could go to Hogwarts if he wanted to, but he chose to not to. Chloë desperately wanted to go to the same school as her brother, but when the time came and she had to decide she didn't want to leave New Zealand, because it felt more like home to her than France did. Therefore, even though she would miss her brother, Chloë decided to attend Hogwarts.
​
​
​
Last edited: