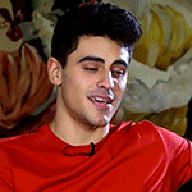 'bro, dude' • bold • ball of energy
Messages

616
OOC First Name

Marijke
Blood Status

Half Blood
Relationship Status

Seeing Somebody
Sexual Orientation

El
Wand

Curly 14 1/2 Inch Flexible Blackthorn Wand with Hippogriff Feather Core
Age

11/2040 (16)

ISAIAH
ACE
THOMPSON



FULL NAME
PRONOUNCIATION
Isaiah when spoken pronounced as eye-zay-uh, in IPA written as /aɪ.ˈzaɪ.ə/. Ace being pronounced as ays, in IPA written as /eɪs/.
​
MEANING
Isaiah from Hebrew meaning 'god is salvation'. Ace from Latin origin meaning either 'one', 'unity' or 'expert'.
​
WHY
Isaiah's mother had not shared the name she wanted to give her child with his dads during her pregnancy, wanting to keep it a surprise for her friends. However, since the woman died during childbirth his dads didn't know what she had wanted to name him and were allowed to pick a name for him. Both of them liked the name Isaiah because it partly resembled his mother's name: Isabel. His middle name they chose because they felt like he was an important factor in what would unite them and make them a family.
​
NICKNAMES
Isaiah does not have many nicknames but mostly goes by Zay.
​
BLOOD STATUS
He is a Half Blood wizard, his birth mother was a witch but the man who got her pregnant was a Muggle.
​
THOUGHTS
Isaiah doesn't care much for blood status at all, especially since he knows it doesn't determine who you are.
​
ROOTS
His mother was half Irish, half Slovak and that's all either Isaiah or his dads know. They don't know anything about his biological father as his mother didn't want to ever discuss more about him than the fact that he was a Muggle.
​
NATIONALITY
Isaiah was born and raised in New Zealand.
​
HOMETOWN
He was born in Auckland, New Zealand.
​
CURRENT RESIDENCE
His family now lives in St.Kilda, Dunedin, New Zealand.
​
WAND

Curly 14 1/2 Inch Flexible Blackthorn Wand with Hippogriff Feather Core.
​
​
Length: A little on the longer side of things, wands of this length are slightly more uncommon and not easily forgotten by others.
Style: Great care was taken in crafting this wand's wood to spiral to its point, giving it a beautiful aesthetic quality.
Wood: A wand best suited for a warrior-type, Blackthorn wands bond most strongly to their owners after going through adversity.
Core: Just like the animal from which it comes, hippogriff feathers being used as a wand core produce wands that are stable and versatile; however, they must be respected by the wand caster or risk having this wand turn against them.
Flexibility: Not easily broken, this wand performs under strenuous circumstances with little effort - though how well it performs is ultimately up to its weilder.

DATE OF BIRTH
Isaiah was born on the 24th of November, 2040.
​
PLACE OF BIRTH
He was born in a wizarding hospital near Auckland, New Zealand.
​
BIRTH STORY
Isaiah's mother Isabel was a friend of his father Matthew. She was a witch and had found herself in an unplanned pregnancy. She wasn't ready for a child and so Matthew and Carter had opted to adopt the child once it was born. They helped her out as much as she could during her pregnancy and had agreed they would have her be a part of his growing up as well. Unfortunately, there were many complications during Isabel's childbirth and the healers were not able to save her. Matthew and Carter adopted the child as they had planned to, deciding that they would tell him stories about his mother if and whenever he'd ask about it.
​
ZODIAC
Sagittarius. Sagittarius' can be recognized by their open and magnanimous, carefree style. People born under Sagittarius have an optimistic view of life and are probably one of the most striking star signs of the zodiac given their unstoppable drive and positive zest for life. Being the ninth sign of the zodiac and ruled by jovial Jupiter, their good nature and wonderful sense of humor wins them friends, wherever they go. They exclude self-condifent and, in fact, are sometimes probably a little overconfident. Strangely, you still endear others with your infectious laugh and generous manners. Jupiter is responsible for luck and because people under Sagittarius have a tendency to believe nothing will go wrong, they're known as a bit of risk takers.
​
HOUSE ASTROLOGY
Gryffindor Sagittarius. Gryffindors born under this sign are exuberant and full of good humour. They are intelligent, but often do not make the best of students, because they would rather be outside enjoying the fresh air or off studying on their own. They aren't good at diplomatic silence; if a teacher makes a mistake, the Gryffindor Sag will draw attention to it right away, usually loudly and in front of the entire class. At length. These students can get into trouble - their hot tempers make for easy dueling matches, and their impish senses of humour inspire a great many practical jokes. Still, they rarely mean anything malicious. They're too jovial to harbour malice. These Gryffindors are likeable extraverts, on good terms with practically everybody, and they generally do all right in the end. Many excellent Quidditch players come from this sign.
​
ELEMENT
Fire. Those graced by fire are fiery. They are enthusiastic and sometimes larger than life. Just like a fire that is left unattended, however, fire signs can burn out of control, so it's best to tend those embers. A fire sign is also an indicator of creativity. This element manifests itself in creative and unique ways, and those in its glow are courageous and lively spirits. Those influenced by a fire sign are self-sufficient, spontaneous and possess a tremendous zest for life. Aries under the fire sign are not known for their patience. They prefer cutting to the chase over any tactic. They are brave, impetuous and direct.
​
PLANET
♃ Jupiter. In Roman Mythology, Jupiter is the King of the Gods, a guardian and protector. Jupiter is a tolerant and expansive planet. Freedom, exploration, and joviality are commonly associated with Jupiter, marking why it is the ruler of the astrological sign Sagittarius. Jupiter reflects a person's optimism, dreams and luck. Jupiter's greatest aspects are seen as its good humor, good will and mercy, but can be negatively viewed due to blind optimism, excess, irresponsibility and overindulgence.
​
​

PLAYBY
BLOOD TYPE
Isaiah's blood type is B negative.
​
HAIR
His hair is of a dark brown/brown black-ish color. It's often a bit shorter at the sides than it is on the top and he'll run his hair through it. At times when he's to lazy to get it cut he'll let it grow out for a little while and it'll be a bit more wild.
​
EYES
Isaiah has honey brown eyes. He doesn't think they are anything special, but he does kind of like them and will go against anyone saying brown eyes are boring.
​
HEIGHT
Isaiah pretty much has an average height for his age. He isn't the tallest kid around, but he does have a little bit of length on most of his friends. Nothing too significant, although he does like to act like it's a lot.
​
DISTINGUISHING FEATURES
His most distinguishing feature is a big scar on his upper arm from when his skateboard betrayed him on an uneven path and he took quite a fall down onto the ground, scraping his arm on one of the rocks.
​
DOMINANT HAND
Isaiah's dominant hand is is right hand. He used to try and learn how to write with his left hand a lot when he was younger because he thought it'd be super cool, but he never quite managed to get it right.
​
LANGUAGES
Isaiah isn't too good with languages. His mother tongue is English and he knows a little bit of French because of his family but he has never managed to get very good at it.
​
STYLE
He has a very laid-back style consisting a lot of just t-shirts, jeans, hoodies and jackets. Comfortability is key. A whole bunch of his jeans can be found with holes in them because of times he managed to wreck them by falling of his skateboard but he still wears them. His dads aren't the biggest fan of it, but as long as the jeans aren't completely wrecked they'd allow it. Isaiah also likes to wear caps, preferring to wear them the wrong way around unless he's actually wearing it to shield his eyes from the sun.
​

FIVE WORDS
Bold. Of a person, action, or idea: showing a willingness to take risks, confident and courageous. ​
Down to earth. Someone that is free of pretension.​
Energetic. Showing or involving great activity or vitality.​
Impulsive. Someone who does or acts without forethought.​
Protective. Showing desire to keep others safe, make sure they are alright.​
FIVE WORDS EXPLAINED
Bold. Isaiah in his core is a bold person. He is not afraid to speak up and is also very self-aware. He knows what his strenghts are and tries to understand and own his weaknesses as well.​
Down to earth. He is a very 'two feet on the ground' kind of guy. He's not one to put on airs or pretends he is something he is not. He likes to be honest and keep things real, even if that might not always be the best thing to do.​
Energetic. This mostly speaks for itself. Being young as he is Isaiah has a lot of energy which he tries to put into his skateboarding and music. If he has to sit still for too long he'll get the urge to go and do something, move around.​
Impulsive. Isaiah is quite an impulsive kid. He'll often get weird ideas or have things he thinks would be cool and ends up doing stuff without giving it a thought first. ​
Protective. Isaiah is a very caring kid, always wanting to make sure his friends and family are okay. This has also turned into him being rather protective. He isn't over-protective and would never want to hurt someone by trying to keep them safe. He feels most protective over his siblings and will always stand up for them.​
OVERALL PERSONALITY
Isaiah is your classic energetic, out there kind of kid. He's a fun kid to be around and thrives off making others laugh. He can easily be the class clown. Even if he has so much energy he is also a very laid-back type of kid in the way that he is not someone that'll get stressed over things very easily. He has this kind of 'don't worry, it'll be fine' kind of attitude, which for example can be seen in the fact that he's a huge procrastinator when it comes to school work. He'll always leave it to the last minute, not being a stranger to forgetting about it either. He's impulsive and a little bit reckless, never really thinking about the consequences. He also likes to believe he's a whole lot more responsible than he really is, except for when it comes to his siblings. When it comes to them, he's as responsible as can be and always tries his best to take care of them. Isaiah is as real as it gets. He isn't one to put on acts or pretends he's something he's not. It would not be suprising to find him brag a little about things he succeeds at, if only because he personally just thinks it's really cool. Isaiah's no stranger to sarcasm and can be kind of an idiot from time to time, in the best sense of the words possible.
​
MBTI PERSONALITY TYPE
ESFP-A. The Entertainer.
​
PERSONALITY TYPE EXPLAINED
A person with an ESFP personality type can often be described a spontaneous, outgoing and resourceful. They love being the centre of attention and can be described as 'entertainers'. People with the ESFP personality type are practical, preferring to learn in a hands-on kind of way rather than having to learn from a book and sometimes struggle in having to study in a classroom setting. They very much live in the 'here and now' and often fail to think about how their actions will lead to long-term consequences. They often rush into new situations and figure things out as they go. They are fun-loving and definitely enjoy attention.
​
OPTIMIST OR PESSIMIST
Isaiah is most definitely an optimist and can often be heard calling out phrases like 'no worries' and 'c'mon, it'll be fine' when he is once again acting on an impulse. When things do turn south however, he can have a hard time keeping things positive.​
TEMPERAMENT
TEMPERAMENT EXPLAINED
People with the Sanguine temperament/personality type tend to be lively, optimistic and carefree. They are bad at dealing with boredom and will seek entertainment instead.
​
GOOD HABITS/STRENGHTS
Isaiah is optimistic most of the time, spending very little time worrying about things he has no control over. He is spontaneous and likes to keep things real. He has a knack for music and has no trouble whipping out his guitar and making up silly songs on the get-go in an attempt to cheer someone else up. More to be added as he grows.
​
BAD HABITS/FLAWS
His impulsiveness and inability to plan ahead can sometimes turn into recklessness. Isaiah also gets bored rather easily and his no worries attitude will cause him to procrastinate on his school work, which won't always work in his favour. More to be added as he grows.
​
LIKES
Skateboarding, playing his guitar, annoying his siblings, making people laugh, quidditch. More to be added.
​
DISLIKES
Fake people, studying because he's no good at it, being ignored, boring people. More to be added.
​
​

AMORTENTIA
Isaiah's amortentia would smell like wet asphalt, citrus and sea water.
​
MIRROR OF ERISED
PATRONUS
Wildcat. Wildcats are as wildly different as their coats. They tend to be solitary, territorial homemakers with dens and burrows lined with soft grasses and feathers. While they are hunting, they move quickly and confidently through the trees in pursuit of prey. A wildcat as a patronus connects to being a protector.
​
PATRONUS MEMORY
BOGGART
RIDIKULUS
HOBBIES
Isaiah enjoys skateboarding on his board that is way past it's time, which causes him to fall far more often than he actually should have. He is a pretty decent skateboarder, but because of the state of his board he doesn't really show it. Other than that he has a knack for music and enjoys playing his guitar. He'll also sing from time to time, but mainly does that when he comes up with silly little songs on the spot to make others laugh or cheer them up.
​
HANDWRITING & SIGNATURE


SEXUAL ORIENTATION
CURRENT RELATIONSHIP
PREVIOUS RELATIONSHIP(S)
CURRENT CRUSH
FIRST CRUSH
FIRST KISS
OTHERS KISSED

FAVOURITE ANIMAL
Dogs! Isaiah is a fervent dog lover. He'll like every dog, no matter what size or race. He even loves the ones that are a little bit ugly.
​
FAVOURITE MAGICAL BEAST
He is highly intruiged by the idea of sea serpents and would like to see one someday.
​
FAVOURITE FOOD
Donuts. Isaiah loves donuts, although it does thoroughyl depend on what flavour of donut. His favourites are regular, filled with cream and those filled with chocolate.
​
FAVOURITE SEASON
Winter because he loves his sweaters and hoodies. No other specific reason.
​
FAVOURITE ACTIVITY
It's a hard choice between playing his guitar or riding his skateboard, but he'd have to pick the guitar. (Although in reality his favourite activity would be making others laugh).
​

EDUCATION
Isaiah was homeschooled by his dad since he was old enough. His dad is a teacher and since he's magical himself he teaches a small group of magical kids. Therefore it was only natural for Isaiah to be homeschooled by him with some of those other kids as well.
​
TIMELINE
Homeschooled in Dunedin, New Zealand // 2045-2052.
​
Hogwarts New Zealand // 2052-ongoing.
​
HOGWARTS HOUSE
THOUGHTS
Isaiah didn't really care which house he would be placed in, but he's pretty content with where he got placed. He's heard good stories about Gryffindor from his uncle and his cousin so he is definitely excited to see what being a Gryffindor has in store for him. He also thinks it's nice to be in the same house as one of his older cousins, making him feel like there's always someone close that will look out for him should it be needed.
​
FAVOURITE CLASS
Transfiguration. Ever since their first lesson in which their professor showed his animagus form Isaiah has been intrigued by the idea of transfiguration.
​
LEAST FAVOURITE CLASS
History of Magic. One word: boring.
​
CLUBS & EXTRA CURRICULARS
Brotherhood member // starting 2052.
​
GRADUATION
Isaiah is set to graduate from Hogwarts in 2059.
​
OCCUPATION
WORK ETHIC
Due to Isaiah having this whole 'no worries' attitude he has become quite a bit of a procrastinator. He'll still get his work done most of the time, if only at the very last second before it needs to be handed in. He has some difficulty learning and knows he should try harder but just hasn't found the discipline for that yet.
​

FAMILY
​
RELATIONSHIP
Adoptive father (pa)
NAME
Matthew Jonathan Thompson
D.O.B.
14th of June 2012
BLOOD STATUS
Half-Blood
RELATIONSHIP STATUS
Happily married
EDUCATION
Hogwarts New Zealand
HOUSE
Hufflepuff
OCCUPATION
Journalist​

RELATIONSHIP


Adoptive father (dad)
NAME
Carter Daniel Thompson-Wright
D.O.B.
7th of August 2010
BLOOD STATUS
Mixed Blood
RELATIONSHIP STATUS
Happily married
EDUCATION
Hogwarts New Zealand
HOUSE
Slytherin
OCCUPATION
Teacher (for magical kids)

​

RELATIONSHIP
Adoptive brother
NAME
Elijah Thompson
D.O.B.
20th of August 2043
BLOOD STATUS
Unknown
RELATIONSHIP STATUS
Too young
EDUCATION
Magical elementary student
HOUSE
Not yet sorted
OCCUPATION
None

RELATIONSHIP


Adoptive sister
NAME
Kiara Madeline Thompson
D.O.B.
18th of October 2043
BLOOD STATUS
Unknown
RELATIONSHIP STATUS
Too young
EDUCATION
Magical elementary student
HOUSE
Not yet sorted
OCCUPATION
None
​
RELATIONSHIP WITH FATHERS
Isaiah has a great relationship with both his fathers. In their household they call one of their fathers pa whilst they call the other one dad, just so they always know who they are talking or referring to. Both of his dads are highly supportive of their children and will always try to help them whenever they need help with anything, even if both of them can get quite busy with their work. Isaiah's dads have never kept his mother a secret from him which is something he, young as he is, appreciates a lot.
​
RELATIONSHIP WITH SIBLINGS
Isaiah has a good relationship with both his younger brother and sister. Even though none of them are related by blood he'd move heaven and earth for them and will always try his best to protect them and keep them happy.
​
PETS
The Thompsons have one grey, Staffordshire Bull Terrier called Nani, who Isaiah thinks is the sweetest dog he has ever met. Before he went to Hogwarts he also got a Southern Boobok owl he called Boo.
​


SOURCES
zodiac
| wand |
element
|
house astrology
|
planet
​
Last edited: