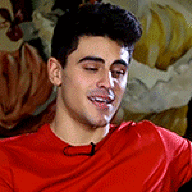 bold • free • tagging along 🎪
Messages

935
OOC First Name

Marijke
Blood Status

Half Blood
Relationship Status

Seeing Somebody
Sexual Orientation

El
Wand

Curly 14 1/2 Inch Flexible Blackthorn Wand with Hippogriff Feather Core
Age

11/2040 (19)
Isaiah wasn't completely sure what it was about him that had somehow given Nikko the idea that he would be a suitable captain but he wasn't going to complain. At least now he had a real achievement to tell his family about. One that would be even better if they actually managed to win this year. Winning didn't matter much when he still had try-outs to go through first though and he knew he had to step up if he was going to be a good captain. He couldn't just stroll onto the pitch right before things started like he normally did, he needed to be the first one there. And he was. After making sure everything was ready Zay took a few laps around the pitch, getting back down to the ground when he noticed the first students shuffling onto the green. "
Hey, guys. Welcome to try-outs! For those of you who don't know me my name's Isaiah, or Zay, and I'm your new captain. There's not much starter spots to fill but I'd like to remind you all that alternates are just as important. Especially if we want to win the cup. Which we obviously do.
" He started, trying his best to sound as captain-y as he could while also not wanting to be too serious. "
Returning players, you know what to do. Everyone else please step forward and state your name and the position you're trying out for. You're free to try out for multiple positions but be sure to let me know which one has your preference. Alright, that's all. I guess I'm the one you've got to impress now, so show me what you've got!
"
| | |
| --- | --- |
| Position | Player |
| Seeker | Flynn North |
| Beater (Captain) | Isaiah Thompson |
| Beater | Aurora Archer |
| Keeper | Available |
| Chaser | Zephryn Spencer |
| Chaser | Soren Gates |
| Chaser | Louis Alcott |
| Alternate | Available |
| Alternate | Available |
| Alternate | Available |
Out of Character:

Returning team members must post to keep their spot on the team. Alternates must try out again!

First years are not allowed to try out unless there are still spaces that need to be filled. If you have a first year that's interested shoot me a PM.