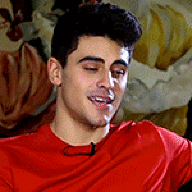 captain • bold • ball of energy
Messages

810
OOC First Name

Marijke
Blood Status

Half Blood
Relationship Status

Seeing Somebody
Sexual Orientation

El
Wand

Curly 14 1/2 Inch Flexible Blackthorn Wand with Hippogriff Feather Core
Age

11/2040 (17)
Isaiah couldn't help but to be excited to be back at school. Be excited for another year of Quidditch. Even with Gryffindor's track record being the way it was. There was no way he was going to leave the school without giving it all he'd got for one more year of Quidditch. With Flynn now gone he knew there odds had changed once again but he had promised himself he was going to stay hopeful. Motivated. Because if he wasn't, than how was his team supposed to be?
He'd made his way onto the pitch early to make sure everything was in order for try-outs. The weather wasn't optimal but it could definitely be worse. The sky was covered in clouds and the wind was chilly but at least it had stopped raining for a while. Hopefully it would stay that way a bit longer. Although having try-outs in the rain might just help bring out people's real skills. "
'Sup you guys, welcome to Gryffindor try-outs!
" Zay grinned at the students gathered in front of him. "
My name's Isaiah, or Zay, and I am your captain.
" He added, still proud that somehow Nikko had seen the potential in him. "
I'm hoping it'll stay dry for the duration of try-outs but in an attempt to not press our luck let's just get right to it. Returning players, you know what to do. I expect you guys to help out anyone trying out but also just look at this as a practice session. Take it seriously.
" He told his team in perhaps a more professional manner than they were used to from him. He just
really
wanted them to do good this year. "
For anyone new trying out please come up to tell me your name and what position you're going for. Let's go!
"
| Position | Player |
| --- | --- |
| Seeker | OPEN |
| Beater | Isaiah Thompson (c) |
| Beater | Aurora Archer |
| Chaser | Zephryn Spencer |
| Chaser | Soren Gates |
| Chaser | Louis Alcott |
| Keeper | Genevieve Fuentes |
| Alternates | OPEN |
Out of Character:


Returning team members must post to keep their spot on the team. Alternates must try out again!

First years are not allowed to try out unless there are still spaces that need to be filled. If you have a first year that's interested shoot me a PM.