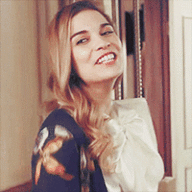 💕 spoiled princess 💕 nightmare 💕 queen bee
Messages

114
OOC First Name

Rowan
Blood Status

Half Blood
Relationship Status

Too Young to Care
Wand

Curly 15 1/2 Inch Rigid Vine Wand with Doxy Wing Core
Age

11/2040 (13)
For as sociable as she tried to be, Jenna didn't actually bother spending a lot of time with her own classmates. There were only a small handful of third years she really found bearable and the rest were entirely worth writing off, as far as she was concerned. But appearances had to be made, and so she had made sure to dress up as elegantly as she could before turning up fashionably late to the meetup she had heard about. A quick scan of the group confirmed her suspicions - mostly losers, with the exception of Kaia, who Jenna thought at least had potential, and Natalia, who had somehow managed to be the only even remotely bearable girl in her dorm. Putting on her brightest, fakest smile, Jenna gave a big wave to the group as she approached, not even bothering to pretend she had brought anything to eat. She had brought herself - that was gift enough, and her classmates bringing snacks for
her
felt much more appropriate.
"Hiiiiiiii guys! Hope I didn't miss the party!"
She beamed, before making her way over to Kaia, as Natalia seemed busy with some whoever.
"Giiirl, your outfit is so cute! Love the top, so edgy!"
Compliments, to Jenna, had two uses. One was to tear others down without implicating herself, a simple backhand to remind people how much better than them she was. The other use was closer to sincere, an easy way to gain allies by buttering them up, and this was the approach she was taking now. She had to admit to herself that Kaia's outfit
was
cute, and if she could use this as a way to get Kaia on her side, so much the better.
@Kaia Stark