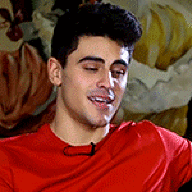 'bro, dude' • bold • ball of energy
Messages

107
OOC First Name

Marijke
Blood Status

Half Blood
Relationship Status

Too Young to Care
Sexual Orientation

???
Wand

Curly 14 1/2 Inch Flexible Blackthorn Wand with Hippogriff Feather Core
Age

11/2040 (11)
Almost everything about hogwarts was excited to Isaiah. First of all, the castle itself was huge and there must be so many secret places and hidden gems to be explored inside of it and that wasn't even all of it. There was so much to see outside of the castle as well. Gardens, cliffs, a lake and a forest they weren't allowed in which, obviously, only made him want to go there even more. Why would they even have the school next to a forest if they didn't want the students to go there? Why didn't they just build a fence around it or something? The only thing that was even better than the castle itself was the amount of students at the school. There were so many people. So. Many. People. Which meant loads of people to meet and to befriend. Oh yes, he was totally going to have a good time here. Having hun out in his common room for a little while Isaiah had heard word of some sort of common room where kids from all houses were allowed. Some sort of general lounge which seemed like the perfect place to meet people from other houses. As he entered he noticed a couple of kids he recognized from sorting, or at least he was pretty sure he'd seen their faces around when they all entered the hall as a group. Not wasting any time he made his way over to one of the sofas, plopping down next to a girl he was sure had been recently sorted as well. "Hey! How you goin'? You're freshly sorted as well right?"
He spoke almost all of it in one breath, way too fast in his excitement to meet other kids.