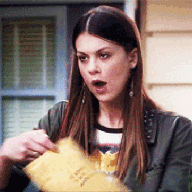 Grieving | Angry | Likes to pick fights
Messages

261
OOC First Name

Kiersten
Blood Status

Mixed Blood
Relationship Status

Too Young to Care
Wand

Vine Wand, 11 ¼ in, Acromantula Web Core
Age

7/2040 (13)
Seraphina
couldn't believe she had been coerced into signing up for a blind
date
. Especially with any of those brotherhood guys. She had never even been to one of the dances at school and suddenly felt severely underdressed as she entered the Great Hall. Knowing her nonna, they would have gone dress shopping if Seraphina had told her she wanted to go to a dance. Her mother, on the other hand, didn't see the need in purchasing the Gryffindor a new dress because she really didn't think the girl would go. And somewhat out of spite, but also a little curiosity, Seraphina had ended up at the Yule Ball. The jacket had been a last minute addition, as she hated the dress her mother had bought for an occasion a few years ago. But it was the only one she'd been forced to bring to school in case she needed to "make appearances." She knew what the boy she was supposed to be going with looked like and kind of stood on the edge of the hall until she saw him, walking up with a very large frown on her face.
"It's really loud in here,"
she said to Isaiah, wondering if it would bother him as much as it was her.
Open after @Isaiah Thompson and @Tilly Drage