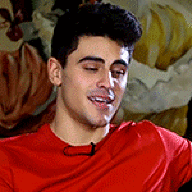 'bro, dude' • bold • ball of energy
Messages

107
OOC First Name

Marijke
Blood Status

Half Blood
Relationship Status

Too Young to Care
Sexual Orientation

???
Wand

Curly 14 1/2 Inch Flexible Blackthorn Wand with Hippogriff Feather Core
Age

11/2040 (11)
[open after Steven posts with Piper]

One of the few people Isaiah had actually paid attention to during sorting was his cousin. Well, the one that needed to be sorted like he had, not the ones that had already been at the school for a couple of years. With his name starting with an 'I' and hers with a 'P' he had quickly made his way to the gryffindor table during the ceremony and had been sat down just in time to se her get sorted into hufflepuff. Lame. He had secretly been looking forward to them being sorted into the same house, so being in different ones was a bit of a let down. He wasn't going to let that get between them though and so at breakfast the next day has made his way over to the hufflepuff table rather than joining some of his dormmates at the gryffindor table. Isaiah had little difficulty spotting his cousin as he looked across the table and exitedly made her way over to her. "Yo Pipes! P!" He almost shouted as he waved at her from halfway down the table and made his way over to where she was sitting. There were students on each side of her, but he didn't really care. "Dude, scoot over." He nodded at one of them, one of his legs already swung over the bench between Piper and the other student as he wiggled his way inbetween them so he could take the spot next to his cousin. "How you goin'? How's the girls in your dorm? Did you see your sister yet?" He asked her enthusiastically, talking so fast that there didn't seem to be almost no pauses inbetween the words.