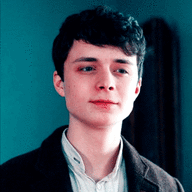 | '54 Grad | Ollivander's Asst. |
Messages

4,664
OOC First Name

Kris
Blood Status

Half Blood
Relationship Status

Seeing Somebody
Sexual Orientation

Demi (Alice)
Wand

10 1/2 Inch Alder Wand with Dragon Heartstring Core
Age

6/2036 (23)
____

THE BASICS
Birthdate
: June 4th, 2036
Hometown :
New York City, NY, USA
Residence :
Obsidian Harbour, Aotearoa
Blood status
: Half-blood
Education
: HNZ Class of 2054;
Hufflepuff
____
​

Courage, Charm, Leadership, Spirituality and Protective are all qualities of this wand, Alder is the Celtic wood of astrology, so is good for spells involving star gazing and astronomy. It is good for those that don't find great pleasure in physical or attacking spells, but those that protect themselves if need be.

​
____

Play by :
Lucas Jade Zumann
Hair :
Dark, curly
Eyes :
Dark brown
Height/Build :
Of average build, if a little on the small side, Elliot tends to slouch or shrink int his clothes to make himself seem smaller
Style :
Big shirts and oversized sweaters. Elliot's clothes often make him look much smaller than he is. Comfort highlighted over style though always keeps his uniform or work clothes neat, even if the sleeves might be a little long.
Distinguishing Features :
Elliot's whole face scrunches up when he smiles or laughs
____
Reserved
|
Methodical
|
Patient
|
Compassionate
|
Insecure
Outwardly calm and reserved, if a touch awkward. inwardly, Elliot is somewhat neurotic and insecure, seeking acceptance and validation from his peers. A lonely child, Elliot yearned to have a chance to build connections and possess a great deal of compassion and warmth for those he's close to. Unfortunately, it can take some time before he feels confident enough to reach out to others.
Order makes Elliot feel safe and in control when dealing with the whirlwind of activity that was living with his mother as well as helped handle the strange stillness when he visited his father. He will often plan, count, or practice his actions as a method to calm down or focus. Because of this, Elliot often struggles to function in situations without a clear goal or strategy and becomes very nervous when unprepared.
He was often stuck inside his own head as a child, and had a tendency to overthink or hesitate when considering his options. While this means he can miss out on opportunities, he prefers the feeling of control it provides.
As an adult, Elliot has grown more secure. While he still second guesses himself regularly and struggles to easily connect with his peers, he's learnt to smooth over his insecurities more often and is more comfortable taking charge and speaking up around strangers though he will still go out of his way to assure that others are comfortable, often over his own well-being.
Strengths :
Organized, Reliable, Empathetic
Weaknesses :
Stuck in his own head, Anxious, A push-over
Likes :
Astronomy, Fantasy novels, Sour candy
Dislikes :
Long distance travel, Jaffas
____
Elliot's parents split when he was very young, unable to reconcile their vast lifestyle differences. El grew up spending the majority of his time with his mother in New York and spending his (kiwi) Summers with his father in Kerikeri.
He's always lived in two separate worlds, the hectic, magical city life with his witch mother vs the calm, beautiful country life with his muggle father. After receiving his owl from HNZ, El had to decide if he was ready to combine those two worlds into a strange middle ground that he will need to learn to make his own.
Elliot started Hogwarts New Zealand as a reserved, anxious boy and managed to graduate seven years later still anxious, but far more assertive. After years of working hard, Elliot finished his school as Head Boy, prefect of Hufflepuff house, leader of the Wild Patch Club, and Hufflepuff house seeker and Quidditch captain. He was also grateful to leave school with a collection of very close friends, including Lily Lockwood, Lars van Houten, and long term girlfriend, Alice Holland. During his schooling, Elliot was able to find some level of direction and certainty in his life, being able to allow things he could not control or plan for wash over him rather than overwhelm him and has begun pursuing a passion in wandlore and wand-making while working at Ollivander's.
____
​
HARRIETTE BRIAR

Mother

Witch - Half-blood

Personal Chef | NYC, USA​

OSCAR BROOKS

Father

Muggle

Architect | Kerikeri, NZ​

BERRYL "BERRY" MILLER (nee Briar)

Aunt

Witch - Half-blood

Homemaker | NY, USA​

KATY MILLER

Cousin

Witch - Mixed-blood

Ilvermorny (Thunderbird) | NY, USA​
____​
Credit for Bio Header layout to Rowan
​
Last edited: