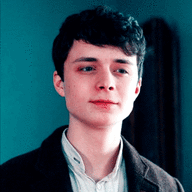 | '54 Grad | Ollivander's Asst. |
Messages

3,958
OOC First Name

Kris
Blood Status

Half Blood
Relationship Status

Seeing Somebody
Sexual Orientation

Demi (Alice)
Wand

10 1/2 Inch Alder Wand with Dragon Heartstring Core
Age

6/2036 (18)
With his NEWTs getting closer and closer, Elliot had found he'd had less and less time to spend in the Wild Patch. A part of him was morning the loss, sad to see such a big fixture of his time at Hogwarts figuratively (and literally in a few places) withering away, but deep down he knew he'd have to start letting the club and the garden go sooner or later. He'd arrived a little early for today's club meeting, getting a little extra time around the club greenhouse and garden by himself before the rest of the club gathered.
"
Hey guys, with the weather starting to turn for the year, I thought we could spend today weatherproofing the garden. There's a few thermal or shield spells you can use for most plants, and for the more delicate ones, we can either move them into the greenhouse or cover them with plastic to make sure they stay warm over the winter,
" he explained, motioning to the rolls of plastic and netting as he drew his own wand. "
And uh, well as some of you probably know, this is my last year as your King of Flowers. It's been a privilege and honour leading this club but at least I know I leave it all in safe hands at the end of the year,
" he said, trying to keep a smile on his face despite the niggling awareness of how close that end was. "
To that point, I'd like to announce your new club leader next year will Lysander Summers. I trust he'll help you all work hard to keep the spirit of the Wild Patch alive,
" he said, nodding sheepishly over to Lysander before clearing his throat, unsure how to finish after his announcement. "
But uh, let's get to it!
"
Last edited: