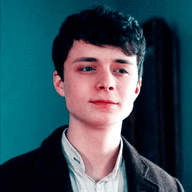 5th Year | King of Flowers | Growing
Open after Daphne posts with Alice
After last year, Elliot had to admit the Yule Ball was a little tainted with bad memories. But he was still hopeful he and Lars could move past whatever friendship limbo they were in now, and it would feel weird to avoid the ball just because of the lingering hurt from last year, so Elliot had tried to put on something nice and let himself enjoy the celebrations this year. He'd always enjoyed celebrating holidays, especially when the hall was decked out with snow and other winter-y decorations. It helped made a Summer-time Yule feel less weird and little more like home to him.
Skirting around the dance floor, Elliot did remember why going to the ball alone was a little weird, hoping he might spot Lily or maybe Nell or Kace about. Though if Clifton and Lily were here together he'd probably rather let them do their own couple-y things. He was relieved when he saw Alice though, smiling as he moved over and tapped her on the shoulder. "
Hey, Alice, you look nice tonight,
" He said before motioning to the dance floor, finding he was a little tired of standing off to the side tonight. "
Are you here with someone? I think I owe you a dance with some interest
," Elliot said sheepishly.