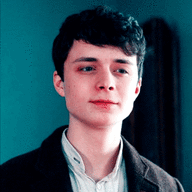 6th Year | King of Flowers | Ollivander's Asst |
Working at Ollivander's had been a challenge, to say the least, but it had helped solidify Elliot's growing interest in wandlore, for which he was grateful. His first few years at Hogwarts, studying with no direction and watching as his classmates had all pursued their talents and interests had set Elliot on edge, filled with fear that he was missing some window to find something he wanted to do with his life. He wasn't completely sure what exactly he wanted to do when he graduated, but he hoped it was something to do with wands, and the relief of that knowledge helped carry him even on difficult or busy days at the shop.

It also encouraged him to catch up with Emmett, hovering awkwardly behind him as Ollivander's closed for the day. "Hey uh, Emmett? Could I ask you something? Really quick?" He said meekly, reaching to tap Emmett on the shoulder before thinking better of it. Elliot mostly got along fine with the other Ollivander's employees, especially Ainsley, but Emmett he gave a wide berth, still quietly terrified of his dour attitude. But from what he'd heard, Emmett's family was pretty deeply involved in wandmaking, and Elliot tried to swallow his skittishness in favor of maybe learning a few things.