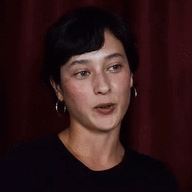 📚 middlest | skeptical | a little bit cursed 📚
Messages

189
OOC First Name

Kadi
Blood Status

Mixed Blood
Relationship Status

Too Young to Care
Wand

Knotted 13 Inch Unyielding Hazel Wand with Essence of Belladonna Core
Age

1/2040 (13)
Delilah Thorne

B A S I C S
Full Name:
Delilah Victoria Thorne
Nicknames:
Lila, but only by her brothers
Birth date:
January 21st, 2040
Hometown:
London, England
Blood Status:
Mixed-Blood
W A N D
Knotted 13 Inch Unyielding Hazel Wand with Essence of Belladonna Core
Length:
A strange length for a wand and a number which symbolizes misfortune.
Wood:
'Hazel Moans' the poem tells us, but it does a lot more than that. This wand will reflect and respond to its owner's emotional state and so should always be handled with care, and the wizard it calls should work to understand their emotions.
Core:
As a wand core, essence of belladonna is useful in Potions and Herbology work. The poisonous nature of this substance makes the wand more suspicious than most wands are of the wand caster. For this reason, wands with this core take a long time to bond with the wand caster.
A P P E A R A N C E
Play by:
Lydia Graham
Hair:
straight and black, shoulder length with bangs
Eyes:
blueish green
Height:
average for her age
Style:
preppy and feminine
Other Distinguishing Features:
freckles across the bridge of her nose and cheeks

P E R S O N A L I T Y
Delilah has spent most of her life trying to be the perfect daughter by not causing any problems and doing exactly what is expected from her. When problems do arise she is usually the one who does her best to mediate the situation and smooth it over. She always does what is expected of her even if she doesn't want to. She feels like it should be easy to fit into this roll, and sees other people do it all the time and doesn't understand why she feels so uncomfortable and out of place all the time. So she does her best to become the person she thinks people want her to be, and will do whatever it takes to maintain that perception at great cost to her own comfort or desires.
Strengths:
clever, patient, analytical
Weaknesses:
skeptical, guarded, moody
B A C K G R O U N D
Delilah comes from a prominent family with old money originally based in London. But after her father made some bad business decisions they were forced to move to New Zealand to keep even a little bit of their family's reputation intact. As the middle child and only girl, she has spent most of her life trying to be the perfect daughter and not cause any problems, to compensate for the recklessness of her older brother who always seemed to get into trouble and her younger brother who's the baby of the family. Her parents were both very distant growing up and her father is especially harsh, setting up firm expectations from a young age. Since moving and being severed from their social scene her mother has become overbearing and obsessing over the way the family presents themselves. While her father is as distant as ever trying to rebuild his career.
F A M I L Y
​
Aleena Thorne

Mother​

Thomas Thorne

Father​

Simon Thorne

(15)

Brother​

Caleb Thorne

(10)

Brother​
Benjamin Thorne

Uncle​

Lucie Thorne

Aunt​

Gemma Throne

(13)

Cousin​
Last edited: