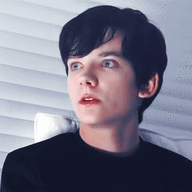 Creepy Kid | Staring Eyes | Shy
Messages

323
OOC First Name

Daphne
Blood Status

Mixed Blood
Relationship Status

Too Young to Care
Age

9/2038 (13)



Master the art of observing
​
THE BASICS:
NAME:
Augustus Oscar
Westwick


NAME MEANING:


👁 Augustus: Means "exalted, venerable", derived from Latin augere meaning "to increase". Augustus was the title given to Octavian, the first Roman emperor.
👁
Oscar
: Possibly means "deer friend", derived from Gaelic os "deer" and cara "friend"
👁
Westwick: Westwick is a village and civil parish in the English county of Norfolk, situated to the south of North Walsham.


HOMETOWN:

Oamaru, New Zealand


NICKNAME/ALIAS:

-


AGE:

13


BIRTHDAY:
13
September 2039



NATIONALITY:

Citizen of New Zealand


BLOOD STATUS:

Mixed Blood


SEXUALITY:
Unknown
RELATIONSHIP STATUS:

Single


ZODIAC SIGN:

Virgo. As a Virgo born on September 13th, your friends know you for being reserved, sensitive and artistic. While others seem to come alive in the spotlight, you find little enjoyment with all the eyes on you. Instead, you much rather find yourself in the background where you are comfortable. At times you may feel timid or shy, but this is easily countered when you are surrounded by close friends and loved ones. With friends and family, you find it easy to share your true self, which includes a great appreciation for life's many beauties.


ELEMENT:

Earth. Earth is your element and being a Virgo, you are the only zodiac sign with a fixed connection to the element. You are a grounded soul and desire the same stability that Earth provides in all matters of life. You seem to gravitate to the reliable, as opposed to taking many chances. It is this pragmatism that will help you achieve your life goals, but it also may shortchange you of some fun if you become overly cautious.


PLANET:

Mercury. While Mercury is your sign's planetary ruler, you also receive planetary influence from Venus because you were born in the third Decan, or part, of the sign. Mercury is the planet of the mind and its influence materializes in your agile thinking and sharp communication abilities. Venus' influence can be found in your sensitivity, appreciation for beauty and desire for cooperation. Your unique planetary influences make you far more reserved than any of the other Virgo Decans. You prefer to go about your business privately and do so with great style and artistic flare. Your sensitivity is amongst your greatest assets, but it also leads to you getting hurt often, as you will always care greatly about what others think of you.



EDUCATION:

Hogwarts New Zealand


HOGWARTS HOUSE:

Ravenclaw




HOGWARTS YEAR:

Third


OCCUPATION:

Student


FAVORITE CLASS:

Herbology, Transfiguration


LEAST FAVORITE CLASS:

Flying



CLUBS AND ACTIVITIES:

-
WAND
:
Straight 11 Inch Whippy Ebony Wand with Demiguise Hair Core
👁 Wood: Ebony wands choose a wizard or witch who could easily be seen as an outsider, but continues to dare to be themselves. The owner of an ebony wand is not easily moved from their purpose: whether that be good, evil, or something perhaps a little more grey.
👁 Core: Demiguise hair cores help create wands that are especially good for transfiguration. Wands of this core tend to need replacing before too long, their ability to cast effective spells diminishing with time.

PET AT SCHOOL:

Clay golem named Beaufort
​
APPEARANCE:
PLAY BY:
Asa Butterfield
HAIR:

Short and dark brown


EYES:
Bright blue
BUILD
:
S
hort for his age.


STYLE:
Augustus
prefers old fashioned clothing styles and dark colors. His clothing style is more formal than an average child's.


OTHER DISTINGUISHING FEATURES:
Augustus
often stares at others in a somewhat disconcerting way and doesn't seem to blink as often as a regular person.
A LITTLE DEEPER:
PERSONALITY:
Augustus is a very shy boy, who often doesn't really know what to do or say when faced with another person. He tends to prefer staying in the shadows in the background and doesn't tend to be the center of attention. Augustus is mostly known to stare disconcertingly at others for long periods of time. He doesn't do this out of malice, but simply does not know what else to do. He also doesn't seem to blink as much as others, adding to the unsettling look. While Augustus can be kind of strange and scary, he's really a sweet kid who just doesn't really know how to communicate with others. He's very very curious about other kids and likes to observe them to see how they interact with each other and how things work. He has a curiosity for many things, not shying away from anything more morbid.

INFP - "THE MEDIATOR"
Mediator personalities are true idealists, always looking for the hint of good in even the worst of people and events, searching for ways to make things better. While they may be perceived as calm, reserved, or even shy, Mediators have an inner flame and passion that can truly shine. Comprising just 4% of the population, the risk of feeling misunderstood is unfortunately high for the Mediator personality type – but when they find like-minded people to spend their time with, the harmony they feel will be a fountain of joy and inspiration.
INFP STRENGTHS:
Idealistic
👁 Seek and Value Harmony 👁 Open-Minded and Flexible 👁 Very Creative 👁 Dedicated and Hard-Working 👁 Passionate and Energetic



INFP WEAKNESSES:
Too Idealistic
👁 Too Altruistic 👁 Impractical 👁 Dislike Dealing With Data 👁 Take Things Personally 👁 Difficult to Get to Know

​
HISTORY:
Augustus Westwick is an only child with two older cousins at Hogwarts: Edmund and Theodore Westwick. Augustus grew up in a wizarding family and was home schooled by his parents, who are both antique dealers. He has always looked up to his older cousins, though their age gap kept them from being too close. Augustus hasn't really met many kids his own age, as he grew up fairly remotely without any siblings and was home schooled by his parents. The twins were the only two kids he really knew, and he tried a lot to be like them. He shares their interest in magical creatures, with the same preference for dark creatures. But unlike his cousins, he doesn't try to scare others with scary facts. Augustus finds them genuinely interesting, and tends to try to share facts in an attempt to socialize with others.


LIKES:

The forest, magical creatures, scary facts, learning new things


DISLIKES:

Large groups of people, bullies, most sports


GOALS:
To make a friend
FEARS:

Large crowds, disappointing his cousins


STRENGTHS:
Augustus is a smart boy with a logical mind, he's good at remembering facts about things he's interested in. He's also very kind, even if he doesn't always know how to convey that.
WEAKNESSES:
Augustus i
sn't very social and has trouble communicating with people outside his family. He is nervous about approaching anyone, and prefers to simply observe. He is easily intimidated.


MIRROR OF ERISED
:
He would see himself learning magic alongside a group of friends and going on adventures together.
BOGGART:

Being in a crowd of total strangers who laugh at ihm.


PATRONUS:

Unknown


AMORTENTIA:

Unknown
AESTHETIC:
FAMILY:
Name:

Quincy Westwick
Relation: Father


Age:

33 (2016)
Blood Status: Mixed Blood
Marital Status: Married
Occupation: Antiques Dealer

Name:

Cordelia Westwick-Adams
Relation: Mother


Age:

33 (2016)
Blood Status: Mixed Blood
Martial Status: Married
Occupation: Antiques Dealer

Name:

Douglas Craig Westwick


Relation: Uncle


Age:

38 (2011)
Blood Status: Mixed Blood
Marital Status: Married


Occupation:

Piano Teacher

Name:

Georgina Lenore Westwick-Gray
Relation: Aunt


Age:

39 (2010)
Blood Status: Mixed Blood
Marital Status: Married
Occupation: Biologist

Name:

Edmund Clinton Westwick

(

x

)


Relation: Cousin


Age:

18
Blood Status: Mixed Blood
Marital Status: -
Occupation: Student at Hogwarts Hogwats NZ


House:

Ravenclaw

Name:

Theodore Eugene Westwick

(

x

)


Relation: Cousin


Age:

18
Blood Status: Mixed Blood
Marital Status: -
Occupation: Student at Hogwarts Hogwats NZ


House

:

Ravenclaw


---


---

---

Last edited: