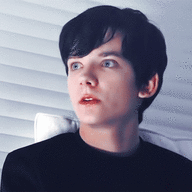 Creepy Kid | Staring Eyes | Shy
Open after Jess posts with Addison

It was nice to be back at the Ravenclaw table. Even though Augustus still didn't always feel like he fit in at school, at least in his house he did feel like he wasn't completely out of place. Ravenclaw was home to a lot of different interesting people, and to many that seemed strange to others. Augustus felt like if he belonged anywhere, he definitely belonged here. The boy was eating breakfast before classes, reading a book he'd picked up from the book exchange late last year. He hadn't finished it yet over break, so was hoping to finish it now. He wondered if Ryan or Finn might join him, or maybe Addy. She sometimes sat at the Ravenclaw table with him during meals. But with his book for company, he also didn't necessarily need anyone to sit with him. And he was hardly the only one at the table reading during breakfast.