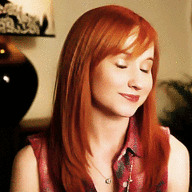 Excitable | Loud | No boundaries | Older twin
Messages

461
OOC First Name

Daphne
Blood Status

Mixed Blood
Relationship Status

Interested in Somebody
Sexual Orientation

Unknown
Wand

Knotted 14 Inch Swishy Acacia Wand with Phoenix Tail Feather Core
Age

1/2038 (14)
Emma had been studying with a few of her friends in the student lounge, when she had gotten fed up with it. They'd been studying
so much
lately, and they all deserved a break. That was how she had dragged her friends into a game of hide and seek, as well as Nicole's little brother and one of his friends. Nikko had been there too, and Emma had been happy to invite anyone who was also nearby and felt like playing a game. An older Gryffindor had joined them too, and Emma was glad. The more, the merrier! They now all gathered in the fourth floor corridor, and Emma took the lead in explaining the rules.
"Okay, to play we have to follow these rules."
She said importantly.
"We have to stay on this floor. No going into the Hufflepuff common room, Connor."
She said, looking at the boy in question closely with narrowed eyes.
"And first one to be found is next to search. We can swap places then if we want, or stay. You have to count to twenty before you seek!"
She said eagerly. She then looked around thoughtfully, then she closed her eyes and spun in a circle, pointing outward. She stopped, opened her eyes, and saw who she was pointing at. It was Nicole's little brother Ryan.
"Alright, you're up first!"
She told him.
"Go stand over there, close your eyes... no peeking, and then you seek us. When you've find someone I guess you call that they've been found? And we swap searchers."
She said.
"Oh! And no magic!"
She added as the rule popped into her head.
"We've learned a spell that would help, but that wouldn't be fair to the first years."
She said, unable to resist rubbing in that they knew more magic.
"Okay, everyone go hide!"
Last edited by a moderator: