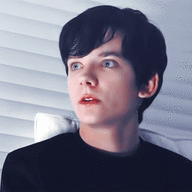 Creepy Kid | Staring Eyes | Shy
Augustus had been nervous when his cousins had dragged him into the forest on his first day at Hogwarts, but at least he had known two seventh years were with him who would protect him, even if they also really enjoyed scaring him. Now, he was just with Addison, and together they only knew a handful of spells. But Augustus figured that if they went the same way he'd gone with the twins, nothing could really go wrong. They hadn't really seen anything scary back then, so he thought the odds were small that something would attack them this time.
"Watch out for that branch."
He said quietly to Addison as he pointed it out, neglecting to mention it had been one he'd tripped over on his first trip here.
"Lumos."
He said, lighting up the tip of his wand. He didn't have charms yet, but Theodore had taught him the spell earlier and he had practiced it on his own.
"I heard there's many creatures here, though I didn't see anything when I was here with my cousins."
He added, glancing at his friend.
"But maybe we'll see something today, and I could tell the boys in my dormitory about it. Maybe I can be their friend too"
He said quietly, looking around carefully for anything moving.
"I heard there's unicorns."
He said quietly, naming one of the less scary creatures, partly to reassure Addison and partly to reassure himself.
Last edited: