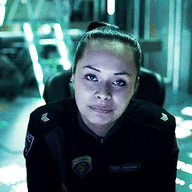 Messages

978
OOC First Name

Amanda
Blood Status

Mixed Blood
Relationship Status

Too Young to Care
Wand

12" Pear with Mermaid Scales
Age

5/2040 (14)
Tilly Drage

​
Date of Birth: May 25, 2040
Full birth name: Talia Juliette Drage
Talia- 'To wait' (Samoan)​
Juliette- 'Young, downy' (French)​
Drage- 'Dragon' (Norwegian- Tilly's distant ancestors became experts working with this magical creature in remote northeastern Norway)​
Physical appearance: Tilly is tall, wide, and broad-shouldered for her age, with brown skin, brown eyes, and straight black hair.
House: Hufflepuff
Wand: 12" Pear with Core of Mermaid Scales
Pear- "Pear is a spectacularly magical wand wood which binds itself to the pure of heart, generous, and wise - it is not known to choose practitioners of the dark arts."​
Mermaid Scales- "As a core, mermaid scale assists wands in being helpful in classes such as Care of Magical Creatures and water-based spells. Though not a difficult core to obtain, mermaid scales must be freely given by the merperson in order to fully bond in the wand."​
Tilly was born in Samoa to Christian Drage-Dolohov, an author and activist, and Teuila Faumuina, a potions expert. Tilly is mixed-blood as Teuila is a muggle-born witch and Christian is a pure-blooded wizard. Tilly was raised with her younger sister Sefina; her newest sister, Natia, was born in mid-2052.

Tilly is usually found outdoors at every opportunity. She loves to explore and play games. At school, she enjoys playing Quidditch as one of Hufflepuff's house beaters. Her favorite classes so far are Potions, Defense Against the Dark Arts, and Transfiguration. Most books bore her to death; she likes to say she is allergic to them. She is kind-hearted in nature.

Tilly knows very little about her father's maternal side of the family (the Dolohovs) as Christian cut ties when he was a young teenager. She is just starting to learn about Thorine, her grandmother, but is not yet aware of the extent of her crimes.
Last edited: