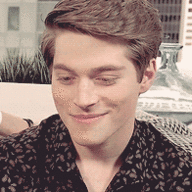 ⚡energetic⚡competitive⚡ ⚡seeker & co-cap⚡
The Basics
​
Name: Blake Christopher Irons
Meaning:
Blake – Fair skinned, Christopher – Carrier of Christ
​
Birthdate: 1/8/2036
Zodiac:
Leo
Strengths: Confident – Ambitious – Generous – Loyal - Encouraging
Weaknesses: Pretentious – Domineering – Melodramatic – Stubborn - Vain
As a Leo born on August 1st, you are characterized by your highly extroverted nature. You are energized by new people and use your warm personality to be quite charming. While others are fearful of the spotlight, you actively seek it, as you thrive in situations where you are the center of attention. Similarly, you are a natural leader and rarely hesitate to take control of situations. Although your friends and family may find you a bit overbearing at time, your loving nature easily melts away their frustrations.
​
Hometown: Auckland, New Zealand
Birthplace: Auckland, New Zealand​
Blood Status: Half Blood
Wand: Laurel Wand 12 1/2" with Phoenix Tail Feather
A Laurel wand suits one who pursues glory. Though rumoured to be unable to perform a dishonourable action, Laurel wands are formidable foes and expect their owners to never stop in their pursuit of bigger and better things. Phoenix tail feathers are not easy to come by. The animal is known for its versatility, making wands with this core useful for wand casters who seek to become good with different types of magic.
​
Hogwarts House:
Slytherin

Appearance
​
Hair: Blake has dark blond hair, which he keeps fairly short.
Eyes: Blake's eyes are rich brown.
Build: Athletic, and on the taller side for his age.
Complexion: Pale, with a few freckles on his cheeks and arms.
Style: Blake's style leans on the "jock" side, preferring athletic clothes at all times.
Distinguishing Features: Blake has quite a loud voice, and can be heard from a long way away.
Playby: Froy Gutierrez (Formerly Ethan Wacker)

Personal
​
Personality: At his core, Blake is goal oriented. Blake always drives himself to be the best at everything, and often disregards others in the pursuit of his own goals. He is friendly and charismatic on the surface, and supports his friends when it suits him to seem kind, but at the end of the day little matters to him other than being the best at everything, always taking things to the extreme.
Strengths:
-Blake is extremely driven and committed to his goals, and once he starts working on something he won't stop until he accomplishes it.
-Blake is very good at making people feel happy and at ease around him, and encouraging them to get swept up in doing fun things.
-Blake is very loyal to the people who stand with him, and sees them as his family.
Weaknesses:
-Blake can be rude and cruel to others when they stand in his way, or sometimes simply for the sake of a joke he doesn't realise has gone too far.
-Blake doesn't have the best judgement, and can often make the wrong decisions and take things too far because he didn't think about what he was doing properly.
-Blake doesn't think twice about taking risks, and is prone to putting himself in dangerous situations in the search for fun and excitement.
Hobbies:
Hockey – Blake has been playing ice hockey since a young age, and is an extremely confident and competent player.
Karate – Blake was also encouraged to take karate classes as a child, and has a purple belt.
​
Personality Type: ESTP (The Entrepreneur)
Entrepreneurs always have an impact on their immediate surroundings – the best way to spot them at a party is to look for the whirling eddy of people flitting about them as they move from group to group. Laughing and entertaining with a blunt and earthy humor, Entrepreneur personalities love to be the center of attention. If an audience member is asked to come on stage, Entrepreneurs volunteer – or volunteer a shy friend.
Strengths: Bold, Rational and Practical, Original, Perceptive, Direct, Sociable
Weaknesses: Insensitive, Impatient, Risk-prone, Unstructured, May Miss the Bigger Picture, Defiant​
History: Blake comes from a well off family on both sides. His mother is a witch, and owns her own cosmetic potion business, and his father is a muggle and owns a gym. From a young age, Blake was encouraged to always be the best at everything he tries. He grew up deeply competitive, playing many different sports, though he eventually settled on hockey as his favourite. In primary school he quickly gained a reputation for being reckless and willing to do anything for attention. He had a lot of friends, but also got in a lot of trouble. He spent a lot of time training with his father, and has always seen sports as one of the most important things in his life. When Blake's sister Jenna was born he resented her a bit at first, but quickly saw the advantage in having a younger sister who would always look up to him, trying to present the coolest version of himself possible to her.
Health: Blake has had a few injuries from sports over the years but always heals quickly, and is otherwise in excellent health.​

Details
​
Goals: To be the best at everything he does, and be loved by everyone.
Fears: Failure and rejection.
Secrets: Blake has always found boys more interesting than girls, something he wouldn't even admit to himself.
Regrets: None. Always be moving forward.
Favourites
Colour: Red
Food: Burgers
Smell: Ice
Music Genre: Rock
Animal: Lion
​
Father


Name: Marcus Irons
Date of Birth: 8/2012 (39)
Blood Status: Muggle
Occupation: Gym Owner

​

Mother


Name: Vanessa Irons
Date of Birth: 4/2015 (36)
Blood Status: Mixed Blood
Occupation: Cosmetic Potion Developer

​
Sister
Name: Jenna Irons
Date of Birth: 2041 (10)
Blood Status: Half Blood
Occupation: Muggle Primary School Student
​
Last edited: