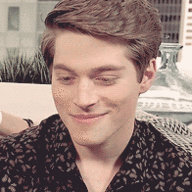 ⚡energetic⚡competitive⚡ ⚡seeker & captain⚡
Messages

588
OOC First Name

Rowan
Blood Status

Half Blood
Relationship Status

Interested in Somebody
Sexual Orientation

Gay ) ( Closeted
Wand

Laurel Wand 12 1/2" with Phoenix Tail Feather
Age

8/2036 (16)
All his life, Blake had been
sure
that he knew himself. Never even questioned it. He was a champion, a winner, a popular kid. All the things his parents wanted him to be. Captain of the team, the life of the party, hanging out in all the right crowds. And then... everything had changed. He felt like piece by piece the window through which he viewed himself was falling apart, revealing it had never been real, a painted facade all along. Who was behind that facade, Blake didn't know anymore. But the more he saw, the more he wanted to see, and the more of the painting he lost, the less he missed it. The way he felt about Lars, that was
real
, achingly meltingly real, and it threw into sharp contrast the relationships he had tried to form in the past.
The version of Blake who had been so cruel to Alice had just been.... a mannequin, dressed up as the person he thought he was supposed to be, and the thought
hurt.
He hadn't even realised what love was supposed to feel like until recently, but knowing that he had... tricked Alice into thinking that was what she had found, when she was just arm in arm with an echo of a person... it wasn't right. Every time he spotted the head girl around the school the guilt bubbled up, until eventually Blake couldn't stand it anymore. Catching sight of Alice walking away down the hall, Blake realised he had reached a breaking point.
"Hey, Alice!"
He called out, running to catch up with her.
"Can we talk? It'll just be a second."
Now that he was face to face with the Hufflepuff, Blake realised he had no idea what he actually needed to
say,
but... well, he was in this now.