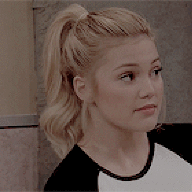 Bubbly ~ Fun-loving ~ Outdoorsy
Messages

290
OOC First Name

Samantha
Blood Status

Muggleborn
Relationship Status

Single
Wand

Knotted 11 1/2 Inch Unyielding Aspen Wand with Fwooper Feather Core
Age

12
Skylar Anderson
Basic Information
​
Full Name
: Skylar Charlotte Anderson
Nickname:
Sky
Gender
: Female
Sexual Orientation
: Straight
Relationship Status:
Single
Birthdate:
29th July 2041
Age
: 12
Occupation:
Student (at Hogwarts NZ)
Hometown:
Warkworth, New Zealand
Nationality
: New Zealander
Languages Spoken
: English
Zodiac Sign
: Leo (Fire Sign)
Element:
The key words to describe those with Fire signs would be enthusiastic and out-going. They are ready for whatever life throws at them and take it in their stride. They like to live large and are bored by mundane tasks. Fire Signs are also intuitive and use their gut–instincts, which means that they can also be deemed as reckless and unaware of the impact their actions could cause.
Blood Status:
Muggleborn
Hogwarts House:
GRYFFINDOR!
Year Level:
Third Year
Wand:
Knotted 11 1/2 Inch Unyielding Aspen Wand with Fwooper Feather Core
Wand Description
: Aspen is a renowned duelling wood, having a great history within the art and exceptional skill for charms. Fwooper feathers make wands that are great for use in Charms and Care of Magical Creatures classes. The wand caster should be warned that they will likely have trouble casting the silencing spell though. If rumors about this wand core are to be believed, it is said to slowly drive the wand wielder mad.
Amortentia
: The smell of nature and forests, especially in autumn when the air is more crisp.
Mirror of Erised
: Seeing herself with her twin brother, but he can perform magic, just as she can.
Boggart
: Losing her family
Patronus
: Fox Terrier
Patronus Memory:
Unknown
Patronus Explanation:
This is a small yet fearless dog that loves being outside and around people. If you have this Patronus, you are spunky and loyal. They work well in teams, so when teaming up with other Patronuses, you can't be beaten.
Dementor
: Unknown
Animagus
: Unkown
Appearance​
Hair:
She has dirty blonde hair that is frustratingly straight, so she braids it every night in an attempt to make it wavy for the next day.
Eyes:
Her eyes are a dark blue that remind her of the ocean, and are usually twinkling from laughter.
Height:
149cm (4'9")
Skin Tone:
A light, natural tan that she gets from spending a lot of her time outside (and forgetting to put sunscreen on...)
Style:
She's most comfortable in anything that is outdoorsy and practical (since she hates fashion and girly things) and prefers leggings, hoodies and sneakers, opposed to things like skirts and dresses.
Other Distinguishing Features:
A small scar on her left leg from when she fell out of a tree when she was little. Also a small smattering of freckles across the bridge of her nose, that's barely visible unless you look closely.
Play-by:
Olivia Holt
Personality​
Good Traits:
She's a very bubbly and optimistic person, who's always up for a laugh, no matter how ridiculous the circumstances!
Bad Traits:
She can sometimes be
too
optimistic and chooses to see the best in people, even if others don't. Unfortunately, she has had a few cases where this has not worked out, and she only regretted it later.
Strengths:
She's most 'in her element' in nature, so she can climb trees easily, swim well, look after and care for animals well and just generally does best when she is outside.
Weaknesses:
As a result of her choosing to see the best in people, she often lets her guard down around others too easily.
Desires:
She wants to travel and experience all that the world has to offer when she's older, preferably with a job that has to do with animals. She'd most want to enjoy it with close family and friends, rather than travelling solo.
Fears:
Her greatest fear is to lose those that she loves or to be in a situation by herself and abandoned. Currently, she's worried about how her relationship with her family will evolve, because she's the only magical one in it. (And she also hates spiders and cockroaches!)
Pet Peeves
: She hates it the most when people take credit for something that she did, and blatantly deny it if she confronts them about it. She also hates it when people chew with their mouths open.
Background​
Skylar comes from a Muggle family, who live on a farm, so as a result, she loves the outdoors and is most comfortable there, as well as being good with animals, seeing as that's who she's grown up with. Her particular skill as a result of that is climbing trees really well and generally being pretty good at looking after and caring for animals.
Her whole life, Skylar grew up thinking magic didn't exist, and that everything could be explained by science, until on the morning of her 11th birthday, when she received a beautiful envelope which had a letter saying she had gotten accepted into Hogwarts New Zealand! Of course, she hadn't believed it at first and thought it was just a dumb prank from someone, but she decided to go to the shopping street listed on the letter anyway, just in case, and there she found that it was actually real and magic
did
exist after all! After shopping for all her school supplies, (as well as her own wand!!) Skylar had left the street, certain that magic did in fact exist, since some of the things she'd seen there were unbelievable! Only a few days passed before Skylar caught the train which would take her to Hogwarts, but it had been one of the most difficult goodbye's of her life, not only because she would be away from her family for ages, but also because it meant leaving her non-magic twin brother behind. But she knew he was happy for her and glad for her to have one of the best experienes of her life, so that made it a bit easier leaving him, but it had still been hard.
Unfortunately, after completing her first year at Hogwarts, when she came back home over the long, winter holidays, Skylar found that it just wasn't the same as before. Her family had accepted that she was different to them, and although they were welcoming and happy she'd come back, things were just different after having spent a whole year away. Her family had moved on, they'd done things without her, and even her brother had completely changed. He was far more mature than he had been the year before, and Skylar found that the bond they had when they were little was slowly fading. Their 'twin telepathy' was gone, and he was more distant than ever before... but that was to be expected, because she was magical, and he was not.
Family:​
It is uncertain where the magical link resulting in Skylar being able to perform magic came from, since none of the known family members can do it. It is possible that it was from an extended family member that they merely don't now about.

Immediate Family:​
Father
- Jacob David Anderson - Muggle - 39 years old (17th March 2014)
Mother
- Sarah Jaine Anderson - Muggle - 37 years old (29th June 2016)
Twin Brother
- Noah William Anderson - Muggle - 12 years old (29th July 2041)
Other Family:​
Mother's Side:
Grandma - Charlotte Loraine Flanagan - Muggle
Grandpa - William Joseph Flanagan - Muggle
Father's Side:
Grandma - Elizabeth Mary Anderson - Muggle
Grandpa - Peter Daniel Anderson - Muggle
Favourite Things:​
Class
: Charms
Spell
: Scourgify & Accio
Sport
: Orienteering (muggle) / Quidditch (magical)
Colour
: Burnt Orange
Pet
: Labrador
Animal
: Fox
Place
: The forest behind her house
Food
: Ice cream
Drink
: Lemonade
Season
: Autumn
Music
: Old pop (80's/90's)
Number
: 9 & 19
Word
: Extravagant
Quote
: "Every cloud has a silver lining"
Last edited: