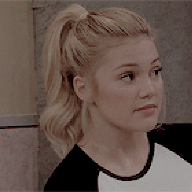 Bubbly ~ Fun-loving ~ Outdoorsy
Skylar walked into the beautiful Tākarokaro Park, feeling the fresh breeze blow around her, and she smiled as she felt how good it was to be in nature again. She had finally finished all her exams, and she was reasonably happy with how they'd gone, though her Potions one could have
definitely
gone better. But it was all behind her now, and she was happy to just be able to enjoy the outdoors and have fun for a few hours today, leaving all the stress exams had brought behind her.
She saw a stream and went over to it, sitting on a rock and taking off her shoes to dangle her feet in the water, when she saw a familiar face approach her. She noticed it was one of the Slytherin students from her Defense Against the Dark Arts class, his name began with R or B she was pretty sure. Oh yeah, and he was a twin or a triplet right? She mentally tried to remember what she knew about him from her two classes with him, DADA and Flying. But she couldn't remember anything else before he'd come close enough to be within earshot, so she just said
"Hey, how are you?"
thinking that being friendly and starting a conversation off like that never did any harm.
@Ruben Right