CASSIUS GABRIEL STYX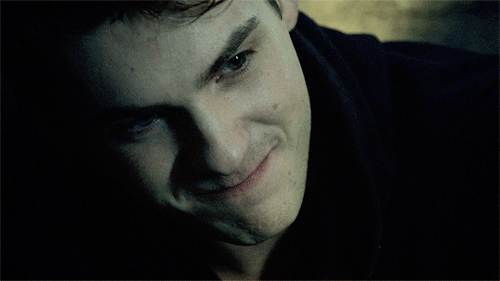 ​
BASICS

FULL NAME
Cassius Gabriel Styx
NICKNAME Cass
ALLIANCE
Undecided
BIRTHDAY
August 12th, 2046
GENDER
Male
RESIDENCE
Unplottable house in New Zealand, Southern Island
HOMETOWN
New Zealand
HERITAGE
Russian, Bulgarian, French, Greek
BLOOD STATUS
Pure-blood
BLOOD TYPE
AB-
WAND
Too Young
OCCUPATION
Too Young
HEALTH
Healthy
ZODIAC
Leo
THEME
A**hole by Helloween
IN DEPTH

OVERALL
Cassius comes from a strong line of pure-bloods, and that has been engraved in his head. He is what others can consider an 'alpha male'. He can have a "meathead" personality, especially with his beliefs. He is a supremacist in the sense of pure-bloods are better than others. He looks down on those with lesser statuses. He is also very ambitious and determined to end up with whatever he has his eyes set on. He is very athletic, and already showing that he will have a taller, bigger build than others - even in his own family.
MYERS BRIGG
ENTJ-A
LOVES M

essing with people, rock climbing, martial arts, walks, runs, apples, cinnamon, potions, magic in general
LOATHES
Compliments, people sucking up to him, bats, closed spaces, asparagus, mushrooms, most people
BOGGART
Unknown at this time
ERISED
Him sitting on a throne made of skulls
DEMENTOR
He does not have a worst memory yet
PATRONUS
He does not have a memory strong enough for this yet.
PATRONUS FORM
Unknown at this time.
VERITASERUM
He does not have a big secret yet.
STRENGTHS
Martial arts, Transfiguration, his protectiveness, understanding (when he is around those he cares about), thinking outside the box, his boldness
WEAKNESSES
Extreme jealousy, hair-trigger temper, violent behavior, empathy, sympathy, cooking
IDOL
Kalif Styx
5 WORDS
A**hole, cocky, possessive, protective, dominant
TALENTS
Martial arts, wit, fighting, debating, identifying plants, baker
LOYALTIES
Zhefarovich Family
QUIRKS
Tends to bite his lips when he is focusing
APPEARANCE

HAIR
Dark brown
EYES
Silver
HEIGHT
5'3"
WEIGHT
Average
BUILD
Larger than average
SCARS
He has a few scars from childhood accidents or scuffs with Hades III.
MODIFICATIONS
None yet
SCENT
Cinnamon / Spicey
STYLE
Cassius wears darker clothes, normally sporting black majority of the time. He does prefer something a little looser because he likes to move around. He does wear jewelry. He constantly has different rings on his fingers, bracelets, and necklaces - all reminisce to chains or skulls
SMILE
Cocky, just oozes attitude
VOICE
Does carry a light Bulgarian accent
HAND
Ambidextrous
THOUGHTS
Cassius absolutely knows that he is a good looking boy, with his looks taking after both of his parents. He is very vain and arrogant with his appearance, and won't do anything to sully such a thing.
FAVORITES

COLOR
Black
FOOD
Apples
DESSERT
Apple pie
DRINK
Fruit juice
ANIMAL
Cobra
SPELL
Unknown at this time
MUSIC
Anything with a heavy beat
SEASON
Autumn
TIME
Dusk
HOLIDAY
Anything with fireworks.
SCHOOLING

PRIMARY
Home-schooled
MAGICAL
Hogwarts New Zealand
HOUSE
Slytherin; below is his sorting post:
Cassius Styx was utterly appalled that that the boy that he threw a rock at was a wizard. That meant... Muggle-born! Ugh! Cass looked around the Great Hall and it was just as unimpressive as he imagined it would be. He wanted to go to Durmstrang, but alas, he had to be moved here, and he had to attend a school that would allow such lower forms in. Disgraceful. He knew that it would take some time before he would be sorted, but his eyes scanned the room once more. He recognized a handful that he had met prior to coming here, including another muggle-born student. Didn't care enough to remember her name. But she did have a sibling. That was all that he recalled. Sad though.

He saw someone else get sorted, and after some time, he finally heard his name called. He proudly walked up to the stool and sat down on it, allowing the hat to drop on his head. Even though the hat had touched countless heads of muggle-borns, he didn't care about that. At least, he tried not to. He folded his arms across his chest, and waited for the hat's decision. He did hope for Slytherin, or even Ravenclaw. Being with a bunch of nerds would be better than being with idiots, since who'd sort an idiot into Ravenclaw? And, free help in case he needed it - which he doubted that he would.

"It has been a little since I sorted a Styx...and it seems not much has changed.... You would manage well in Ravenclaw...but that pride...yes.....Slytherin,"​
YEARS
Y42 (2057) - Present
CLUBS
None
TITLES
None
FAVORITE CLASS
Transfiguration
LOATHED CLASS
History of Magic
GRADUATION
Unknown at this time
AVERAGE GRADES
Unknown at this time
Last edited: