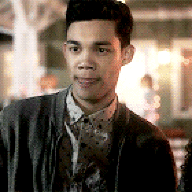 'Sully' | Life of the Party | Gambol's Assistant
Hey guys,
I had an idea for what could be a fun group thread, and since Halloween is coming up IC, I wanted to toss it out there. I want my third year, Sully, to organize a little fear challenge to take place on Halloween night (likely during/after the feast), which would probably end up being something either like "make your way down this scary corridor in the dungeons" or "go touch this one tree in the forest" etc. I imagine it'd be open to any characters, though probably more likely to have students who are around Sully's age or in his house (and come on this is a very Gryffindor thing).
I was envisioning it as something characters could do solo or in pairs, possibly with interference from other characters if anyone's so inclined, but just something for folks to have fun scaring their characters or testing their bravery/willingness to break some rules.
I wanted to gage interest for that kind of thread or if folks want to help me workshop the idea a bit before Halloween hits IC
Thoughts?