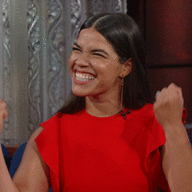 Gryffindor HoH | Mother of 3
Hi all,
This has been an idea I've had for a while but just haven't had the time to post. We're a pretty tight knit community, so I thought it would be neat for us to have this topic where we could celebrate each other's accomplishments big
and
small. Actually, I'll amend that to say no accomplishment is too small!

Did you graduate recently? Did you try out a new recipe and it came out just right? Did you learn to swim? Did you get out of the house today? Let's celebrate...you!

Out of Character:

As always, board rules apply!