Gryffindor HoH | Mother of 3
Messages

30,304
OOC First Name

Cyndi
Blood Status

Mixed Blood
Relationship Status

Divorced
Wand

Knotted 15 Inch Flexible Oak Wand with Meteorite Dust Core
Age

4/2005
Hey guys, it's me again. I've got another fortnight's worth of updates so I hope you'll take a seat and check them out!
Week Five Already?!
Yes, you read that right. Tomorrow, we will go into week five of semester one. We can see that you've all been doing lessons and hope that the notification system in the entrance hall has been helpful. Professors, we do ask that you complete grading for the first half of the semester (at least lessons 1-3) now that we are more than halfway through. Thank you to everyone for your cooperation!

Halloween Feast
As we continue chugging along, the Halloween Feast ended this past week. We hope you enjoyed the fun times.
The judges for the costume contest have gathered and discussed and here are the winners:

Best Overall: Charlie Madison as Dolores Umbridge
Best Magically Enhanced: Cyzarine Haden The Universe
Most Scary: Kira Wolf as a zombie
Best Group/Couple: Evelyn Manning as Black Cat with Lucas Woodlock
Most Ridiculous: April Ward as a sleepwalker
Best Traditional Halloween: Willow Cullen as Alice from wonderland

Points will be awarded soon-ish! Thank you to everyone who participated in the feast and the contest, and congratulations to the winners!!

7th Years
If I'm not mistaken, you've got an ACCIO! PM waiting for you. Make sure you answer it promptly as that's for the yearbook!

Brightstone Weekend
It's open!!! As a reminder, all students (unless you're serving some kind of special punishment

) have access to Brightstone Village. Third years and above can also ferry over to Makutu Mall and enjoy the shops there.



Quidditch
The first quidditch match of the year took place earlier this month with a Hufflepuff victory as they took the game 150 - 10. Points haven't been added to the system yet, but will be soon. Another match is set to take place at the end of the month: Gryffindor vs Ravenclaw. So stay tuned!

Club meetings galore!
I'm loving it. If you're a member of Heta Omega, Hogwarts Monthly, the Brotherhood, I've seen meetings posted and you should join them!

Shop Vacancies
Hog's Head, The Inner Eye, and The Apothecary are in need of new management. If you have what it takes to lead a shop/restaurant and have some ideas for the space, let us know by submitting an application!



Server Maintenance
Hopefully, you've all noticed the calendar announcement, but if you haven't, our server needs some work done on it. What this means for you is that there will be some down time at some point within the hours listed in the calendar. Check it out for yourself here. I'll be sleeping (hopefully

) and won't even notice it.



One GM down
We'd like to thank Kaitlyn for her time as a GM. Now, you'll get to enjoy seeing Styx in his Head of House colors as he continues to terrorize students the school over.

Werewolf sign-ups
We've had a lot of white elephant redemptions lately, and here's another one. Daphne has redeemed her prize to host the next werewolf and sign-ups are up now. We hope you'll consider joining in this last bit of fun as we begin to wrap up 2018! As a reminder to others with white elephant prizes, you've got about 6 months left to use them or lose them.

Crimes of Grindelwald
Have you seen the movie yet? Why not join the discussion here? We do ask that any spoilers be placed in tags to respect those members who haven't seen the movie. I've been reading some very entertaining articles about the movie. I can't wait to sit and watch one day.

​


You too can be in the next BWU or you can recommend some roleplays for others! We didn't get any highlights this time around, so these are a few roleplays I've been following.

Hope you recommend some in the future!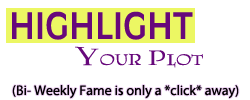 ​
Brightstone fun times
More quidditch!
The end of lessons
I think that's it. To those of you celebrating Thanksgiving this week, Happy Thanksgiving! To those of you who aren't, I hope you have a great week

Cyndi
(On behalf of the HNZ Site Staff)