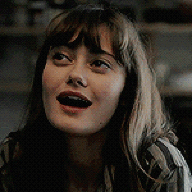 🐍 Grad 49 | Snarky | Artist | Punk 🔥 Revolutionary
Out of Character:

Closed for now, open after a few posts.
The plans were set. The supplies were tucked safely into Hayley's bag. And now, at last, they would set their grand prank in motion. Hayley couldn't think of the last time she had been so excited. Her whole body buzzed with nerves and elation. This was going to be so incredibly, intensely cool, and hilarious, and the best way possible to end their last year at Hogwarts with a bang. If they could pull it off. There was a part of Hayley that worried about that, and although she and Harley didn't much care about getting caught as long as they created the required chaos first, she knew Rose didn't feel the same way. They'd have to protect her, somehow, if things went wrong.
Hayley strolled nonchalantly into the Entrance Hall with her friends, chatting about nothing consequential, their every word charged with excitement under the surface. They wandered with a roundabout path to the spot they'd picked out before, a position under the stairs where they could see well but not be seen easily. They had a few minutes before lunch ended and people started streaming out of the Great Hall. Hayley handed a few bars each of the frogspawn soap to Harley and Rose, ready to perform their part of the plan. She took up her own position, as lookout and instigator. She grinned at the girl gang.
"You guys ready for this?"