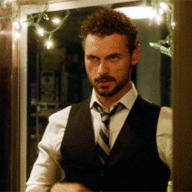 Herbology 5-7 | American | Handsome Devil
Angel Castillo
BORN

: May 27th, 2013

HOMETOWN

: Loredo, TX

BLOOD-STATUS

: Mixed-Blood

SCHOOL

: Ilvermorny, Horned Serpent Class of '31

WAND :

15 ½ Inch Rigid Knotted Sycamore wand with a Billywig stinger core

Wood

: Known to burst into flames if used too often for boring or mundane tasks, Sycamore wands are suited to adventure and excitement.

Core

: Billywig stingers make for temperate cores, but they are mildly useful when used to heal. Wands with this core tend to what they want to do, making them good for people who are flexible in nature.

________



APPEARANCE


Playby

: Adan Canto

Height/Build

: 6ft, Fit

Hair

: Brown, prone to curling

Eyes

: Brown

Style

: Fashionable yet simple. Form fitting, Angel tends to dress as if he's ready for adventure, yet never seems to have a hair out of place.

________

________



PERSONALITY




Hedonist

|

Irresponsible

|

Resourceful

|

Charming

|

Devious

TBD

________

________


FAMILY + HISTORY
Angel is rarely super forthcoming about his family and history, often preferring to stick to vague allusions or details. There is implication that perhaps what information he gives out is not always accurate or cohesive.
Born in Saltillo, Mexico, Angel moved to the US with his family when he was young, growing up on his family's ranch in Laredo, Texas. The Castillo family are a well known provider of potion and apothecary ingredients and Angel grew up surrounded by the constant bustle of busy ranch life.
Starting Ilvermorny in 2024, Angel was sorted into the Horned Serpent house. Angel mostly enjoyed his schooling as a social experience, not particularly caring for his studies, much to his parents' displeasure. Under pressure from his family, Angel was able to at least excel in Herbology, mostly due to his own exposure to the subject growing up. Once graduated however, Angel chose to do little with his talents, content to relax and enjoy the benefits of his affluent family.
When his family's patience for his lifestyle eventually grew thin, Angel, under some duress, apprenticed with his Uncle, a fairly famous herbologist, assisting in his research and helping secure grants and expeditions for his uncle's work. When his uncle moved his studies to New Zealand, Angel stayed stateside for several years, eventually following his uncle several years later in 2048 when his family's patience with him once again ran out.
After coming across an opening for a Herbology professor at Hogwarts New Zealand, and with little else to do, Angel struck out on a new adventure in teaching in 2048
​
Benjamín Castillo

Mixed-blood

Father​

Camila Castillo

Mixed-blood

Mother​

Angel Castillo I

Mixed-blood

Uncle​

Andrés Castillo

Mixed-blood

Brother​
​
Last edited: