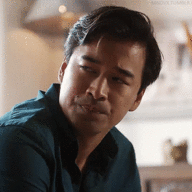 painfully independent 🏄 alt. keeper
Messages

193
OOC First Name

Kadi
Blood Status

Half Blood
Relationship Status

Too Young to Care
Wand

Straight 10 1/2 Inch Sturdy Pine Wand with Unicorn Hair Core
Age

7/2039 (13)
Nikko Blackwood

THE BASICS
Character's Birthdate:
July 1st 2039
Hometown:
Byron Bay, Australia
Blood Status:
Half-Blood
Hogwarts House:
Gryffindor
WAND
Straight 10 1/2 Inch Sturdy Pine Wand with Unicorn Hair Core
Wood:
Pine wands are often found in the hands of the 'loner', they do not protest creative and new uses of magic and this is perhaps why they seem to be the wands most successfully used with non-verbal magic.
Core:
The animal is known for its healing qualities and unbridled beauty, so it is no surprise that wands with unicorn hair are particularly successful at performing healing spells. Wands with this core bond with their first caster, making wands with this core not good as hand-me-downs. These wands are useful with charms and transfiguration.
APPEARANCE
Play by:
Jordan Rodrigues
Hair:
Straight, black
Eyes:
Dark brown
Height:
On the taller side, lanky
Style:
Very casual

PERSONALITY
Nikko has always been on the shy side and a generally quiet kid. He tends to keep to himself and is very slow to open up to others. He is generally very weary of new people, especially magical people. But once he makes up his mind about a person and figures out if they are worth his time, he will do what ever it takes to be there for them. He is not the smartest person or the best at school but he is very observant and notices the small things. He is very athletic and likes the outdoors, and can be really competitive if he puts his mind to it.
Strengths:
independent - loyal - helpful
Weaknesses:
distrusting - stubborn - oversensitive
BACKGROUND
Nikko grew up in a beach town in Australia where his parents run an inn for the tourist that flood the town every year during the summer. He grew up spending almost all of his time there and helping around as much as he could as a kid. Being from a beach town, he loves the water and learned to surf at an early age.
Nikko always knew his father was a wizard. He would use magic to do little things around the inn, like fix things and other useful little charms. But his father kept his distance from the magical world after having a negative experience when he was in school and as a young adult. So he decided it was best to not associate with that world at together and raised his son away from all of it. But he did end up sharing his distaste for magical people with Nikko, whether he meant to or not. While Nikko's father wants nothing to do with magic, he still wants Nikko to learn about it and make up his own mind regarding his involvement in the magical world.
FAMILY
​
Ava Blackwood

Mother ~ Muggle

​

Issac Blackwood

Father ~ Muggleborn

​
Last edited: