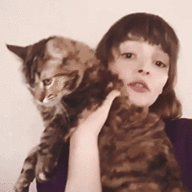 🐇 curious 🐇 annoying 🐇 🐇 hm editor 🐇
Messages

527
OOC First Name

Rowan
Blood Status

Half Blood
Relationship Status

Seeing Somebody
Sexual Orientation

Jasper ) ( Pansexual
Wand

Ash Wand 14 1/4" Essence of Hair from the Tail of a Male Unicorn
Age

4/2036 (18)
The pages of the Monthly were printed and ready to distribute, the ink on parchment beautiful in a bittersweet way. Hogwarts Monthly had nestled itself firmly at the heart of Nell's Hogwarts experience, and now it was all about to come to an end. Her final issue was written and printed, with nothing left to be done but distribute the news to the people of Hogwarts and enjoy their reactions for the last time. Before that though, Nell was determined to enjoy just one last moment with her team.
She had decorated the newsroom and set up some snacks and music, as well as some comfier chairs than their usual desks. If they were going to celebrate, they were going to celebrate in style. Once the team was assembled, Nell couldn't quite keep the tears from her eyes as she addressed them all.
"Hi everyone, I just wanna say a few words quickly. This is, um..."
Nell couldn't hold back a small tremble from her laugh as she quickly wiped her eyes.
"As you know, this is the last issue that Cyzarine and I will be working on with you guys. I hope you'll forgive me being a little self-indulgent and... and throwing this little going-away party for us. It's also a party to thank you guys though, running the Monthly has been... has been the best part of my time at Hogwarts, and I'm going to miss you all so much. I especially want to thank Poppy for all her hard work as my assistant, and I hope you'll all join me congratulating her on taking the position of Editor for next year. I have absolutely no doubt you're all going to do amazing work with her at the helm, and I hope somebody will remember to owl me a copy of every issue, so I can keep up with your writing."
She wiped her eyes again, heart breaking a little at the thought of saying goodbye.
"So, um, that's all I had to say. Thank you guys so much, and enjoy the party!"