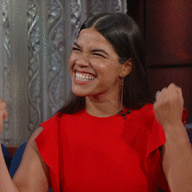 Gryffindor HoH | Mother of 3
Messages

33,193
OOC First Name

Cyndi
Blood Status

Mixed Blood
Wand

Knotted 15 Inch Flexible Oak Wand with Meteorite Dust Core
Age

4/2005
Move over Tri-Weekly Update and welcome to the weekly update! It's been a while since we had one of those! That means it'll be short and sweet since we are trying to get ourselves back on track. Let's get to it!
No classes?!
Wellllll...it is reading week so there's no
new
lessons but a lot of catching up to do, I'm guessing, for professors and students. Professors, we ask that you use this time to catch up on your grading ahead of exam time. Students, earn those house points! It's still a pretty close race.
Quidditch
A fun game took place between Beauxbatons and Ilvermorny with Ilvermorny taking the win!

They'll be taking on one of the Hogwarts teams a little later this year. Check out the game
here!
Don't forget to check out the
calendar
for future game dates.
[/class]


Roleplay Roulette
Anna has cashed in her white elephant prize for roleplay roulette. Sign ups are open RIGHT now! Go go go!

The actual event will begin as the break opens up.

If you still have your white elephant prize, there's only 1 month to redeem. Time is ticking!



Keep being supportive!
Life's hard sometimes, amirite? Let's all do our part to keep the site an awesome, supportive place and not be another difficult part of life if we can help it. Play the games, have the chats off topic and on, and keep the roleplays going!



There weren't any submitted


But hopefully roleplay roulette will see some fun ones submitted.


- Exams

- Yule ball (blind dates)

- the next Hogwarts Monthly

- IC superlatives 🗳



Have a good fortnight. Be safe and well!


As always leave any comments or questions. Or in keeping with my point above, how about some words of support to your fellow HNZers!

~Cyndi
(On behalf of the HNZ Site staff)