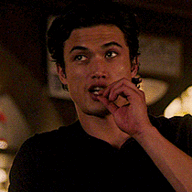 Firstborn / American / Zayne & Kaia's Son
Messages

123
OOC First Name

Kaitlyn
Blood Status

Pure Blood
Relationship Status

Single
Sexual Orientation

Heterosexual
Wand

15" Cedar Wood with Dragon Heartstring Core
Age

6/2037
I have a decent handle on things right now so I am looking for some plotting! So, here's what I have!
Cyrus Baros - Hufflepuff - First Year

​

This is my only first year this year! He is the son of Kaia and Zayne Baros. He is a pureblood. He was taught mainly in the muggle world. He is a little sheltered but he is desperate for friends. He loves Quidditch and learning. In the end, he carves his own path.
What I need: Friends, friends, friends! Anything else really.




Mihail Styx - Hufflepuff - 2nd Year​

This is my lovely little part Veela boy. He is sporty, not too bright, and all around charming. He is starting to develop crushes on girls so if anyone wants some puppy love he would definitely need some attention! He loves all sports, doesn't like chess and enjoys the outdoors.
What I need: Friends, flings, crushes




Katia Hensel - Ravenclaw - 2nd Year​

This is my feisty Ravenclaw who is a pureblood and proud of who she is and what status she holds. However, that isn't what makes her rather unapproachable. She has that resting attitude face and tends to be very serious. Katia doesn't believe in love or anything of the sort after what her mom went through. She's just tough to break.
What I need: I'm open to anything except future loves with her.

Theodore Snow II - Slytherin - 2nd Year

​

This is my baby boy Theodore. He is rather apathetic and obedient to his family. He has red eyes like his mom and Veela genes from his dad. He also has an attitude of a loner as well. It is hard to get him to really open up about who he is rather than who his family are.
What I need: Everything!

Violeta Finch - Ravenclaw - 4th Year

​

This is Violeta Finch, who is Irene's daughter. Her father is absent so that made Violeta a fair bit bitter toward males right now. She is guarded because despite her veela charms, she is rather insecure. She is in the Accio yearbook team.
What I need: Friends, crushes, flings (boy and girl), enemies

Zennon Baros - Slytherin - 4th Year

​

Zennon here has fallen on the back burner and it is time he comes out! In many ways. He is a parselmouth pureblood so he feels that he is destined to become a dark wizard. There's not an evil bone in his body thought. He hates drama and confrontation and will do anything to avoid it. I'm not sure if he will come out of the closet just yet which it seems like he is more asexual than homosexual now...
What I need: Friends, enemies, all the things!

Brayden Chevalier - Slytherin - 4th Year

​

This is my fashion crazed, perfectionist, blunt arse who thinks his opinions are God's gifts to his peers. He can be seen as a bully but not in his eyes. His best friend is Jemma Potter who seems to be the only one capable of handling his attitude.
What I need: Enemies, friends, and someone PM me on Kalif if you have a student that does not attend HNZ for a special plot!

Viktor Styx - Ravenclaw Prefect - 6th Year

​

This here is the ever so quiet Viktor. He doesn't speak to anyone unless he deems them worthy. Viktor just nods and stares for communication, and does verbal spells as low as he can. He is damn near impossible to get to know. But he is a Legilimens in training, so that is interesting. He is also paranoid that everyone lies.
What I need: 1 trusted friend, and a future love interest (we would need to really plot it out)

Bryce Chamberlin - Professor -

​

I think this is my first ever PD that includes a professor! This is my seer part veela man who is a single father to his special boy named Beau. He is a master of feminine problems because of his three sisters, one of whom is blind. He is sweet, kind of awkward, and did I mention that he is deaf? He is a great guy and I want him to come out more.
What I need: Friends, colleague buddies, students that want to hang out with him, and love interests as well as a final
This isn't nearly all my characters. If you have someone of yours you want to get out to play, chances are, I have someone stashed away that can fit your needs. So, bring on the new year!