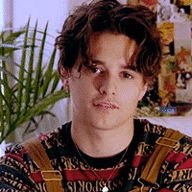 🌼aussie🌼kind🌼sensitive🌼 vibez🌼puff captain
Messages

953
OOC First Name

Rowan
Blood Status

Mixed Blood
Relationship Status

Interested in Somebody
Sexual Orientation

Gay
Wand

Curly 10 1/2 Inch Whippy Alder Wand with Fairy Wing Core
Age

6/2038 (17)
Although he was a little nervous not to have a full compliment of alternates after their tryouts, Connor was doing his best to focus on the team he had. The cup was theirs, and Hufflepuff would have to play harder than ever to keep it that way, with the whole school now gunning for them. Hopefully he and Tilly had put up a strong enough showing against Ilvermorny to make them think twice, and there was no denying Lucas was an incredible Seeker. Hopefully, this would again be their year. Once the team had gathered on the pitch he cleared his throat for attention, doing his best to speak more clearly than he had at the Prefect meeting.
"Hi everyone, alright, just a quick few words before we get started. First I wanna say thanks to everyone who's returned from last year, and welcome to our new players, Leonardo and Felix. This team did amazing work last year, and we're gonna do our best to keep that streak going and keep the cup in Hufflepuff's hands this year. We're gonna have to work hard to make that happen, so I wanna see everyone's best work out on that pitch. Chasers, practice passing and throwing. We've only got Linden on defense, so fly a lap of the pitch between each goal. Focus on teamwork, that's where you guys need to shine. Linden, just stay sharp and focused on your own task, don't pay attention to any of the other players, it's just you and the Quaffle. Tilly, René, we'll be focusing on Lucas and Felix today, putting them through their paces. It might get scary, Felix, but it'll be good practice for a real game, and we won't hurt you too badly. Try to learn everything you can from Lucas, he knows what he's doing. Alright, everyone's got their tactics, let's get going!"
Connor gave a sharp blast of his whistle, soaring into the sky with the rest of the team as the practice began.
Out of Character:

No arrivals, just straight into practice today guys! Don't forget to check out the Quidditch Rules!
Hufflepuff,Practice
Last edited: