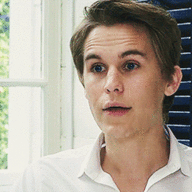 defensive; sarcastic; logical; healer in training
Name of RP + Link:
An explosive end
Characters in RP:
Isaac Kain and Katy Miller
Brief Overview:
It's Isaac's last Yule Ball before he graduates, and he feels like he has nothing left to lose. He's not usually pretty social and he is incredibly sarcastic at the moment, and I think this could be quite a tense topic with whoever he speaks to. Katy Miller will also be joining him, and there is a chance that there is an argument brewing between them.
Additional Notes:
PLEASE JOIN US ILVERMORNY FOLK