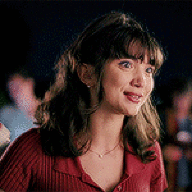 Astronomy 1-4 | Freelance Writer | Ball of Anxiety
Messages

2,272
OOC First Name

Kiersten
Blood Status

Unknown
Relationship Status

Seeing Somebody
Sexual Orientation

Bi (Noel <3)
Wand

Vine Wand 12 3/4" Dragon Heartstring Core
Age

3/2037 (23)
Cameron and Demetrius kind of have a mutual respect thing going on, so they're not really close friends or enemies but they know each other well enough that there'd potentially be a bit of a fall-out if one of them, say, dated the other's ex. I could see maybe Demetrius being jealous of Cameron while he's dating Veronique and that jealousy turns into interest in Veronique.
Okay. We could maybe even do an interaction with the two (or three) before if you'd like, but if not, I'm cool with waiting a bit and then having them chat post-breakup? Maybe post breakup at the Halloween dance?
I can offer Bas up for dating... He's usually into slightly older girls but kind of views dating as a means to an end... The end is making out. Even if things went no where he'd probably continue to flirt with her just for fun as he does enjoy flirting but half the time he doesn't mean it seriously anyway.
Veronique would be fine with just making out. Maybe we could have them interact this semester in a thread and then pick it back up next semester post other dates? I can start one.
Hey Kiersten! I have Axel, my 7th year Ravenclaw as a possible date for Veronique. After the speed dating, I am realizing how awkward he is about dating and I think he realized too

so I think he'd be looking to get some practice in with dating. Also happy to just plot what a date might have looked like and have something disastrous have happened

or if it did go well maybe have them go to one of the school dances together? Either way, am happy to plot some more if you're interested
I love the awkward threads at speed dating

Practice dating is fine! Maybe they could go out on a date near the beginning of Semester 2? And then see how it goes?
Am still willing to make this thread for sure but I do wonder if Vanity's reaction at the feast might cause them not to be friends anymore as easily
Totally fair! I think it's up to you. It's also okay if they interact and argue. I think Tempest is intrigued by how Vanity stood up to June so openly, but I also understand if Vanity is just done with them