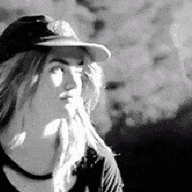 nothing is too wonderful to be true
Messages

494
OOC First Name

Ana
Blood Status

Muggleborn
Relationship Status

Single
Wand

Straight 12.5'' Flexible Larch Wand with Dragon Heartstring Core
Age

12
Hi! I now have two characters, and they need all the plots.

HARPER ALSTON
​
First up is Harper,
second year Gryffindor
. I go into detail about personality when I talk about potential relationships below, but if you'd like something even more thorough, check out her bio
here
.
Friends
- Harper's a friendly and easygoing person, so unless your character is rude from the start, she'll probably get along with them. As for actually becoming friends, she's more drawn to people who are active and extroverted, like her. I'm looking for all types of friends for her: casual acquaintances, best friends, confidants, partners in crime, etc. I'd love to find someone who is also super lively since I can imagine her and that person just feeding off of each other's energy, hyping each other up and getting into crazier and crazier adventures. On her own, she's actually fairly responsible and generally follows the rules. It'd be great to get her a mischievous influence or two (her brothers have historically played this role). She's more of a follower than a leader and will gladly tag along with your troublemaker character if what they're doing sounds fun. Or if you have a character who likes playing the leader and wants some followers, Harper might be an option.
Enemies
- Harper generally avoids confrontation, so her default reaction to people who are nasty or rude is just to avoid them. She doesn't want to deal with that negativity. A good way to make yourself Harper's *enemy* and not just a person she dislikes is to be dismissive of her. She's got a bit of a complex where she needs to prove herself and doesn't take kindly to being told she's incapable of doing something. Harper's also muggleborn and kind of obvious about it in case you have any old-school blood-supremacist bullies (do those even exist anymore?)
Rivals
- Listing this out separately since I think it's a fun dynamic and can be played off as friendly or not-so-friendly. My main thought here is that Harper needs some athletic rivals. Competitive sports were a huge part of her childhood (when it comes to Muggle sports, if you can name it, she's probably tried it), and she lost all of that when she came to Hogwarts. Now, she's going a bit crazy. Her two favorite sports are football (soccer) and gymnastics, but if your character plays a Muggle sport of any kind, she'll probably latch onto them.
Mentors
- Another fun dynamic that I'd like to explore. She comes from a tight-knit community and had lots of support from her family, but attending Hogwarts has strained those bonds. Now, she's alone for the first time in her life and navigating a world she doesn't completely understand, and she could use some guidance from an adult or older student who understands what she's going through. I imagine this would be a relationship built up slowly since Harper doesn't accept help very easily, though she has generally been open to advice/information about the magical world so far. Also, if you have any first year muggleborns, Harper doesn't know enough to be a true "mentor" but she'd definitely be willing to act as a sympathetic ear to anyone who wants to rant or talk through things.
Romantic Interests
- Not really looking for any long-term plotting here since I like letting things happen organically and she's also 12. She's straight and some small crushes could be fun (maybe unrequited as well, for the extra drama?) Any crush at this point would probably just be someone who fits her friend criteria (see above) and comes with the bonus of being someone she finds cute.
Roommates
- Basically, if you have a second year Gryffindor girl, we should plot because I adore dorm threads and roommate relationships. In general, Harper's a pretty good roommate, respectful and tidy. She does have an annoying habit of waking up absurdly early (she's quiet but it could bother light sleepers) and passive aggressively sighing at the sight of other people's cluttered messes if you want some ~conflict~.
---
Next up is Weston,
first year Ravenclaw
. He could use just about everything. His bio is
here
(and will contain a full-length personality description when I get around to it >.>)
Friends
- Weston wants to be your character's friend. Period. Doesn't matter who your character is, unless they are actively glaring at him, his first reaction will be to try to befriend them. He hasn't had many friends in the past, so I actually think he'd be a terrible friend at first despite being friendly and well-intentioned. He'd be self-centered without realizing it and not very attentive other people's needs, so he'd probably get along better with someone who is more patient
or a doormat.
Or someone could call him out on it! (Something he desperately needs it). He's extroverted and can be a bit overly enthusiastic since he isn't the greatest at social cues at the moment. At the same time, he's also pretty naive and gullible, so a toxic friendship with a manipulative character could be fun. As for interests, he absolutely loves music and plays the guitar. He also likes comic books and a lot of board/card games.
Enemies
- Weston grew up homeschooled and very sheltered. He's not really used to being disliked, so I'm looking forward to changing that. He can easily come across as obnoxious and isn't very socially aware, so I imagine he'd probably annoy a fair amount of people. If you have a character who's a bully, he'd be a very good target.
Other Relationships
- At the moment, the only thing I really have in mind is potential bandmates/other people to just jam with. If there are any other musicians or singers looking to link up, Weston might be an option. This could also be something we plot long-term since he's 11 and doesn't really know how to go about performing with other people (he's only ever played by himself or for family members). I'm also open to other relationships if you have ideas!
---
If you're somehow still here after all of that, thank you. I'm also happy to discuss any other ideas you might have, and my PMs are always open!