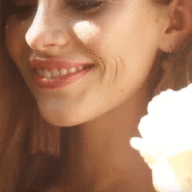 Messages

5,049
OOC First Name

Donna
Blood Status

Half Blood
Relationship Status

Engaged
Sexual Orientation

Pansexual (Lizzie)
Wand

Knotted 16 1/2 Inch Rigid Blackthorn Wand with Boomslang venom Core
Age

6/2029
Rise up this mornin', smiled with the rising sun
Three little birds, pitch by my doorstep
​
Character's full name:


Daisy Aroha Parker


Reason or meaning of name:


Daisy is a feminine name, derived from the name of a flower. The flower name comes from Old English that means "Day's eye".
Aroha is a feminine Maori name, meaning "Love".
Parker is a unisex name, from Old English meaning "Park Keeper" - an occupational surname.


Name Pronunciation:


Day-see
Ah-row-ha (roll the 'r')
Par - kah


Opinion Of Name:


Daisy likes her name. She likes the uniqueness of it, and the fact that she hadn't met anyone else with her name. She thinks it's pretty and likes to draw flowers next to it. Daisy loves her middle name, 'Aroha'. She loves what it means, and the fact that it's Maori; she loves the Maori culture and the fact that her dad can trace his lineage through all his iwi. Daisy hasn't thought too much about her surname, but in the future would probably be unhappy to change it if she were to get married because of her strong relationship with her family, she'd love to keep their name.
Names are important to Daisy because of the identity they bring to a person, their culture and their story.


Character's nickname/s:


Flower. Goose.


Reason for nickname:


Flower
Used by both her parents since birth, as a play on her name. Daisy is quite happy with this nickname, it reminds her of the movie "Bambi", and she thinks it's the cutest nickname.
Goose
Used by her father, mainly because she is cheeky, and silly; derived from "silly goose". Daisy absolutely loves this nickname, and hearing it only spurs her on to be more silly and cheeky.
Singing sweet songs of melodies pure and true
Saying, This is my message to you
​
Physical Characteristics
​
Playby:
Bridget Satterlee; current PB.
Sex and Gender:
Daisy was born female, and identifies as a female.


Birth date:


Thirteenth of June, 2029.
Weight:
Daisy is average weight for her age, she tends to be toned and slim because she is an active being, and loves running.
Height:
Daisy is average height for her age, always being in the middle of height line ups.
Shape of face:
Daisy has an oval-shaped face with a pointed chin. Daisy has a dimple on her chin and had once had it called a 'bum-chin'. Daisy thought that was funny and hasn't let it bother her; she obviously didn't have a bum on her chin. Daisy's cheeks get chubby when she smiles, but usually doesn't stand out from her face. Her lips are full, which she assumes she got from her dad's side of the family.
Eye color:
Daisy's eyes are brown. It is quite common to her family and her demographic. They are almond shaped, and are in good condition so there is no need for glasses.
Skin:
Daisy is predominantly Caucasian, though her family does have Maori history. Daisy doesn't burn easily, and her skin seems to go a shade darker during the hot and sunny seasons. She has a few freckles scattered across her nose, and more show up along her arms and legs during summer.
Hands:
Daisy's fingers are quite short though her middle finger is a bit longer than her other fingers. Her hands are not incredibly smooth due to her mucking around outside, and general not caring of skin care. Daisy often chews her nails and they are hardly ever long.
Other features:
Daisy has a scar on her ribs on the right side where she had to have stitches when she was six years old from a fall while out adventuring with her dad. Her feet are often dry and cracked at the heel, her toenails are short and her feet are often dirty.
Ticklish:
Daisy is incredibly ticklish. Her most ticklish part is the sides of her stomach and she has been known to cry with laughter pretty soon into the tickle attack. Most of Daisy's body is ticklish, apart from her feet.
Hair:
Daisy's hair is quite thin which she gets from her mother's side of the family. Her mother often says she wishes Daisy had thicker hair, but it hasn't bothered Daisy. Her hair is generally straight, though is wavy after swimming in salt water. It is long and is a light brown. The shorter Daisy's hair is, the wavy-er it gets.
Voice:
As Daisy is from New Zealand, she has a typical Kiwi accent. Daisy is generally quite a loud girl and quite verbose, however it is still silvery and not ringing. When Daisy is excited or angry, her voice becomes tremulous and wobbly. She doesn't often think before she speaks, but she trusts her mind and sometimes stumbles over her words because she talks so much and so fast.
Usual body posture:
Daisy is generally a relaxed girl and her posture usually speaks her mind. On a normal day, Daisy's whole body is relaxed. When she gets worked up, her body tenses, and she often runs to loosen up. Daisy's body is usual open and receptive; she's a friendly girl and is always ready to make a new friend.
Stride:
Daisy generally has a high-energy walk that is very showing of her personality. Generally she is sure-footed, but when she is overly excited or angry her mind sometimes forgets how to step properly and she can be quite clumsy; falling over when she's in a good mood makes her laugh much more, but infuriates her when she's grumpy. Daisy steps with her right foot first, and her head is usually help up - not high, but confidently. Her arms swing when she walks.
Mannerisms:
Daisy is an animated girl. She uses her hands when she speaks, especially when lost the word she was trying to say. Daisy uses her whole body to talk. Even when she is tired, her hands will still move when in conversation, though they will be more sluggish and cluttered.
Dominant Hand:
Daisy is right handed.
Singing Don't Worry About a Thing
Because every little thing, is gonna be alright.
​
Usual fashion of dress:
Daisy's usual outfit is a T-Shirt and shorts. During summer, and especially when at home, Daisy will rarely be seen wearing shoes. She will wear hiking shoes if she goes on a forest-y adventure, but she loves being bare-foot. Daisy finds shoes as a hindrance, though she will wear running shoes when out running. During winter and the colder days, Daisy often wears jeans and a woolen jumper. She doesn't like wearing a lot of layers because it makes her feel suffocated and claustrophobic, so will try wear just one item that is warm, rather than layering up. However, Daisy loves wearing beanies and beanies are her favourite part of winter.
She will usually wear neutral coloured clothes, though she likes colours. Peach is her favourite colour to wear as well as light blues and whites. Daisy finds dark colours boring, and though she isn't completely fashion forward, she knows what colours clash and won't wear them together. Occasionally Daisy will wear brighter/neon colours, but only if it's a really cool top or dress.
Jewellery or accessories:
Daisy loves to wear things on her head. She likes beanies, hats, crowns of any sort. Otherwise, Daisy doesn't wear a lot of jewellery or accessories; she might occasionally wear a ring or bracelet, but it gets annoying and she will often just take it off.
Spending Habits:
Daisy doesn't have a lot of money, mainly because she will just spend it as soon as she gets it. Her mom will sometimes give her pocket money for doing jobs around the house, but often Daisy will just have to talk to her mom and beg her for whatever it is she wants. Daisy never has money left over, she will spend for the sake of spending and just because she has the money she will spend it.
Traditions:
The main family tradition that the Parker's have is to have Christmas day on the beach. They get up early and have a small breakfast, pack a picnic and head to the beach with their dog. Most of the time, both of Daisy's parents are there, but there are some times when her father has been called to duty over the Christmas break, so it's just Daisy and her mom. Daisy's favourite Christmases are the ones with both her parents.
Superstitions:
Daisy believes that eating carrots will help vision. She will try to eat as much carrots as possible, especially to help her see in the dark.
Daisy believes that Friday the 13th is an unlucky day, though she doesn't have any personal proof of it.
Daisy believes in lucky items as well, she has a necklace from her parents that she considers lucky. Although Daisy doesn't like to wear much jewellery, she will always have the necklace with her, either in a pocket or when wearing it.
Daisy believes if your ears are burning for no reason, someone is talking about you.
Love Style:
Daisy's love style is Agape. Agape comes from Eros and Storge. Eros is based on chemistry and strong emotional and physical attraction. Storge grows out of friendship and commitment. In the style of Agape, Daisy will have an unbreakable commitment and an unconditional love. She is giving and selfless in love, though she will still make sure she is being looked after; her significant other will be her first priority. Daisy loves to muck around and have fun, joking and pestering is a big part of her life and is a sure way of her showing her love. Daisy always tries to keep the mood light, even when it's with someone she doesn't like.
Nervous ticks:
Daisy gets tense when she is nervous. Her arms and legs get stiff, her shoulders strained. She bites her nails when she is feeling anxious and will also play with and tug on her clothes.
Grooming:
Daisy doesn't often keep herself well groomed; though she will brush her teeth twice a day. She doesn't care about appearances, and won't care much if she has mud on her or her clothes. Daisy might brush her hair after she's washed it, but doesn't every day, not really bothered with how it looks. Daisy hardly ever wears make-up or dresses up, and would need a lot of help figuring out what to use and where to put what. She's never worn heels before, and wouldn't know how to walk in them.
Preferred Sense:
Daisy's preferred sense is sight. She would be completely lost without her vision, and while she does rely on the other senses heavily, sight is the most important to her.
Allergies:
Daisy has a slight allergy to peanuts, which is a pity because she loves them. It's not life threatening unless consumed in large amounts. The most common reaction she gets is an itchy throat and mouth, though she also sometimes feel nauseous, gets a rash and/or has a runny nose. An extreme reaction would be her throat tightening, and shortness of breath.
Ailments:
Daisy has no other known ailments.
Disabilities:
Daisy has no disabilities.
Diet:
Daisy's diet is pretty consistent. Eating isn't always her favourite time of day because she feels it wastes time to sit and eat, but she does have her three main meals a day. The only food Daisy might leave out of her diet is peanuts due to her allergy. Otherwise, she is pretty open to trying any new food – unless it's a funny colour or looks like grass; something a sheep or cow should eat.
Singin' don't worry about a thing
Because every little thing, is gonna be alright
​
Good personality traits:
Daisy is incredibly confident in herself and her thoughts. She always feels like she's making the right decision, and she trusts her own judgement and feelings. Daisy doesn't often feel bad about herself, and she often doesn't care what people might think or say about her, and she will always stand by her word and choices. Daisy is incredibly loyal, and to be called a traitor or untrustworthy would be the biggest insult. Daisy generally has a happy heart and is always up for a bit of fun and playing.
Bad personality traits:
Daisy is incredibly stubborn. It makes her close-minded, as she often thinks that she has the right idea and everyone else is wrong. Though Daisy is open to trying new things, if there is an idea that challenges what she already believes in, it would take an incredibly long time to convince her otherwise. Because she trusts herself and feelings, Daisy often jumps to conclusions, without giving anyone a chance to explain, and again, it is difficult to get her to change her mind. Daisy can sometimes be too blunt, and doesn't often apologize for what she says.
Most common mood:
Daisy is most often in a joyful or playful mood.
Sense of humour:
Daisy loves sarcasm, she doesn't find herself very good at it, but she understands it well, and finds it very funny. Daisy loves laughing, and is quite easily amused, loving anti-jokes and 'dad' jokes. She is quite mischievous and enjoys teasing.
Daisy's greatest fear:
Daisy's greatest fear is to lose her parents.
Why?
Daisy is a through and through daddy's girl. Her father is often called to duty or away from home, so every time she gets to see him is an exciting event. Though she doesn't always see him, Daisy is incredibly close to him and often writes to him. Daisy and her mother are incredibly close, and they spend a lot of time together. Daisy's mother has taught her almost everything she knows and is the loveliest person Daisy knows. Daisy would be lost without her parents.
Character's little fears:
Daisy fears war, though it is just a thought here and there at the back of her mind. Her father doesn't tell her a lot about what happens but she can guess, and once did some research about it which was both frightening and boring. Daisy is also scared of people who wear masks. She hates not being able to see someone's face, who they actually are and see their eyes.
Character is most at ease when:
Daisy feels most at ease at home with her family. She loves her freedom and being able to run around, but when she is with her parents and dog, she doesn't have a single worry in the world.
Most ill at ease when:
As most people would, Daisy feels ill at ease in confrontational situations when she knows she is in the wrong, or when it is more than just one person confronting her, or even when the whole House/School is getting told off. Daisy prefers to be able to have her say, and be able to back up what she is saying.


Patience level:


Generally, Daisy can be patient with rude people. A lot of the time, Daisy doesn't register rudeness, but if she does, she will usually tell them off for being rude, but it doesn't make her lose her temper, or get angry at the person. If someone is pointedly being mean, or squashing her beliefs, that is when Daisy can get angry.
Daisy doesn't have too much patience in waiting for things. If she wants something, she generally wants it now - but only with materialistic things. She is happy to wait for relationships to grow.


General sociability


Daisy loves people. She would be friends with the world if she could. Daisy loves being around people and talking to people and hardly ever struggles to find something to say, or to strike up a conversation with someone.
Enraged when:
People belittle war, or any efforts her father has done, or if they are rude about him because of it. Daisy is very protective of her family.
Greatest strength:
Daisy's greatest strength is her diligence. She is strong-willed, and will always work hard for what she believes in. Daisy doesn't give up!
Greatest weakness:
Daisy's greatest weakness is in line with her strength - she is very stubborn. It mixes with her pride, and she believes everything she says in believes in is true. Daisy won't condemn anyone for what they believe in, but she is right, you are wrong, and there is nothing you can do to change that.
Boggart:
Her father, dead.
Rise up this mornin', smiled with the rising sun
Three little birds, pitch by my doorstep
​
How Daisy feels about herself:
Daisy is confident in who she is as a person. She doesn't think she is a bad person, and thinks she would definitely like to meet herself and be her friend.
One word Daisy would use to describe herself:
Silly
What does Daisy consider her best personality trait?
Daisy thinks her ability to talk to anyone is her best trait.
What does Daisy consider her worst personality trait?
Daisy knows her struggle to apologize and admit she is wrong is her worst trait.
What does Daisy consider her best physical characteristic?
Daisy loves her hair
What does Daisy consider her worst physical characteristic?
Daisy doesn't spend a lot of time focusing on what she wished was different, but she thinks her neck is too long.
How does Daisy think others perceive her?:
Daisy legitimately thinks that other people think she is really cool, and that they'd love to be her friend.
What would Daisy most like to change about herself?:
Her inability to understand other people's beliefs.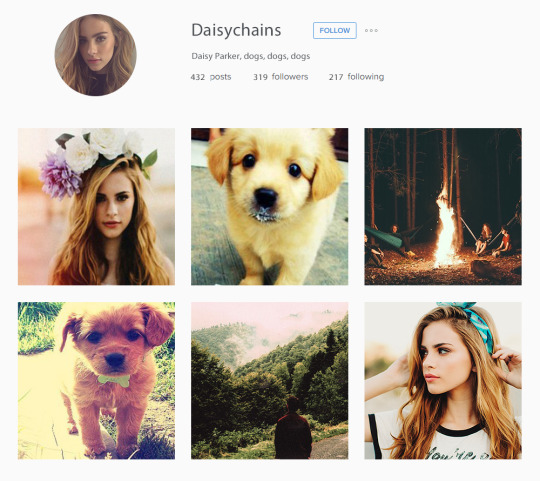 ​
Thanks Emzies for the fakeinsta picture!
​