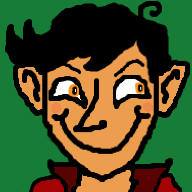 Hogwarts New Zealand Poltergeist
Messages

103
Blood Status

Unknown
Relationship Status

Too Young to Care
Sexual Orientation

Trouble
Wand

A flower covered kettle.
Age

9/2040
Vex had been newly named by the headmistress, and so it was time to have some fun. He had his faithful kettle with him, naturally, as he couldn't quite bring himself to leave it. However, he was without his trumpets today. The poltergeist had ventured his way all through the school and the grounds, thinking of new and exciting was to fix up this mess. He only had a few issues, of course, and one of them were all these holes in the doors! It was far too drafty, and they should be plugged up quickly.



"POP!"



Vex rolled out the large ball of gum with his long tongue, and dropped it into his palm. A small portion was removed, and he stuck it into the keyhole, giggling. He had worked his way up the entire corridor, turning portraits backwards, upside-down, and even diagonal along the way. All keyholes along the corridor were blocked up, and there were only a few left. The gum was shoved back in his mouth and he continued along, swinging his flower-covered kettle as he went.

​