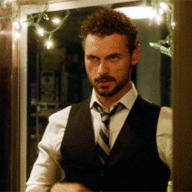 Herbology 5-7 | American | Handsome Devil
Angel hadn't exactly thought teaching would be a walk in the park, but if he was being really honest, it thought it would be a bit easier than this. But hindsight was 20/20 and he probably should have guessed that teaching a bunch of 16 year olds about plants with teeth was going to come back to bite him eventually. Though he wished maybe not so literally.
The fanged geraniums he had collected for his sixth years were proving to be a bit more feisty than he'd anticipated, and Angel's forearm was currently paying the price. He'd never been particularly good at healing spells, and though most of the fairly impressive selection of bites he'd received were pretty minor, Angel'd decided he'd rather just smear some dittany on his arm and call it a day. Besides, if he'd had this much trouble with the geraniums, then he was almost certainly going to need a good supply of dittany in the greenhouse for his student's too. The Hospital Wing seemed like his best bet to get enough dittany fast, so after changing into a shirt without any teeth holes in it, Angel had made his way up there, hoping to catch one of the nurses. "
Hello?
" He called out into the empty ward, giving the door frame a gentle knock as he stepped in.