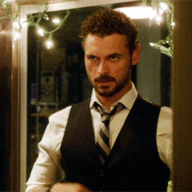 Herbology 5-7 | American | Handsome Devil
Messages

481
OOC First Name

Kris
Blood Status

Mixed Blood
Relationship Status

Seeing Somebody
Sexual Orientation

Bisexual
Age

5/2013 (41)
@Tilly Drage
vs
@Flynn North
If Angel was smart, he would have saved his energy and not agreed to proctor this year. But he had never really been that smart. He just hoped no one got too seriously maimed or injured in any of his matches, especially not in the first round. Once the two competitors seemed ready, Angel directed them up to their places at opposite ends of the platforms before address them and the crowd. "
Welcome to your first round of duelling, let's have a nice clean duel today. The victor will be able to continue on to the rest of the tournament, and the loser will sadly be eliminated. When you're ready, please bow to your opponent and begin!
" He said with a flourish, letting the students get started.
---
The duel begins now. You have 24 hours to post, or face disqualification. Ensure that you use
the spell list
for guidance on age-appropriate spells, and read over the
dueling rules
and
points system
. If you are knocked out or otherwise disarmed/incapacitated, or if you run out of points, you will lose and the duel will end. Have fun!
As an added note: Spectators are allowed to post in this topic once per competitors post, but are forbidden from directly interfering with the duels.
Code:
[b]Current Points:[/b] 150
[hr][/hr]RP content[hr][/hr][b]Action(s) Taken:[/b]
[b]Point Changes:[/b]
[b]Points Remaining:[/b]